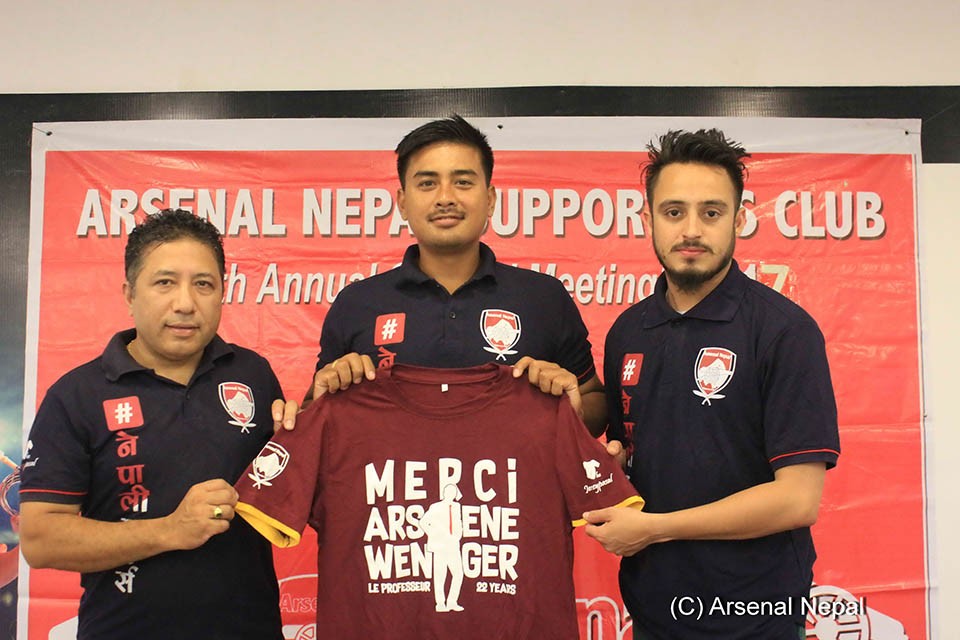 On 16th August 2018, Arsenal Nepal unveiled official members' T-shirt for the season 2018/19.

Nepal's National Cricket team Vice-Captain Gyanendra Malla was present to unveil this season's kit in the presence of Arsenal Nepal's Officials.

The event was held at Carnival Restro & Meetings Bar, Thapagaon, Bijulibazar from 5:30 to 6;30 pm.
 


During the programme, Gyanendra Malla was presented as a official membership card and T-Shirt by Arsenal Nepal President Mr. Nabin Chitrakar.

"Its pleasure to be a part of this wonderful family, felt privileged and proud" Gyanendra Said.

He thanked Arsenal Nepal for inviting and even promised to support Arsenal Nepal's upcoming event.


Arsenal Nepal wished him best wishes for his involvement in Nepal's Asia Cup Qualifiers to be held in Malaysia this month.
 


Arsenal Nepal is an official supporters club of Arsenal FC, London, established in 2009 and has been conducting various programs related to Arsenal FC like futsal tournament, AGM, cycling, friendly football matches and regular screenings of Arsenal's matches since then.
 


Furthermore, 6th Annual General Meeting date was also fixed on 8th September, 2018 by the committee of Arsenal Nepal.
 


This year, Arsenal Nepal is proudly displaying its banner at Emirates stadium. Club President said, "Banner has to be Arsenal FC standard so we have to print in London where Arsenal FC recommended. Fund will be included in Membership fee" he further added.
 


On the occasion, Official website of Arsenal Nepal, www.arsenalnepalofficial.com was also launched.

Club Vice-President and Co-founder Avash Ghimire felt elated on seeing how much progress it have made when compared to 2009.
"Exciting times to be Gooners from Himalayas", he added.


The Event was wrapped up by a Photo session and discussion about future Arsenal Nepal events.