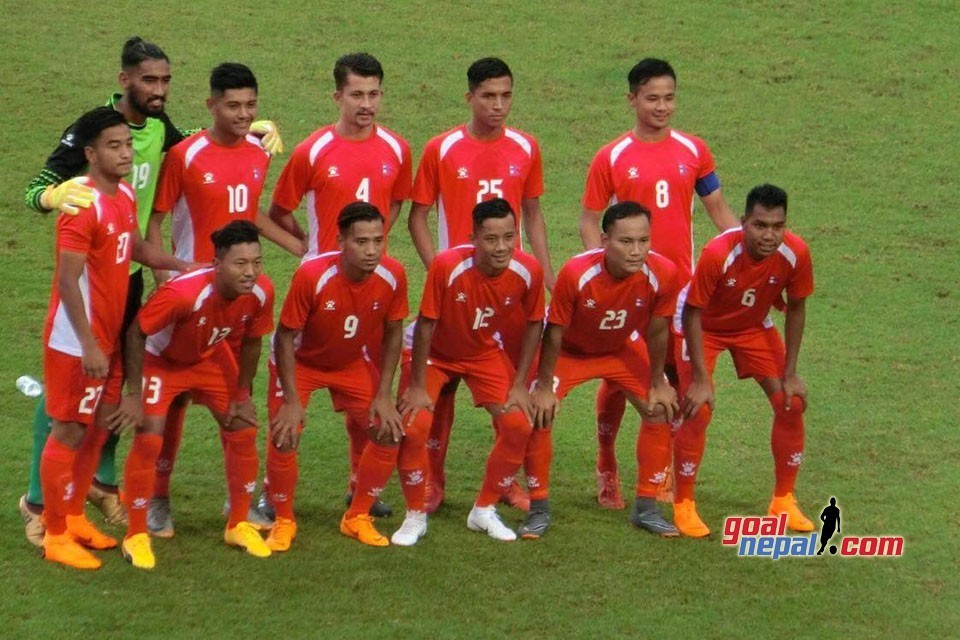 Unsurprisingly, football is one of the most followed and keenly watched events at the 2018 Asian
Games in Indonesia.


The Under-23 competition features Asia's powerhouses like South Korea,
Japan,Uzbekistan,Saudi Arabia, Syria and Iran. Some of the names missing out are Iraq and
 India.


The national team of Nepal is in the fray and hoping to make it to the knockout stage. I do not
 see that happening, based on their current form and struggle to deliver results.


As part of the preparation, Nepal played against Thai sides,losing both friendly games.The
 lackluster performance has raised eyebrows and concern more than the defeat.


In other words, the performance of the team left much to be desired. They face an uphill battle
to qualify for the knockout stage.
 It is obvious that Nepal will need a vastly improved performance to turn things around in order to
stand an outside chance and beat the odds.


They are in a pretty formidable group and pitted against Japan,Vietnam and Pakistan.They
 have a difficult opener against Japan and require a herculean effort to contain the heavily
favored opposition.
Forgetting not, Japan is represented by the highly talented Under-21 squad for the tournament
that has grown in strength and being prepared for the 2020 Summer Olympic Games in Japan
.

Early this year, they participated in the 2018 Toulon Tournament in France.They beat Under-19
 Portugal, drew with Canada and lost to Turkey. They got the better of the senior national team 
of Togo to finish 7th in the 12 -team competition.

This tells you a lot about Japan's strengths.
 Nepal take on a tenacious opponent Vietnam that has improved by leaps and bounds in recent
years.
 Nepal will have to put in every bit of effort to get a reasonable result against the in form
opposition. 
Emerging Vietnam is fasting catching up Asia's heavyweights.Their talent and potential was on
full display at the 2018 Under/23 AFC Championship held in China.

Although they lost to Uzbekistan in the final, they beat Australia,Iraq and Qatar. More recently,
they prevailed over Oman and Palestine in friendlies.
They are a hard nut to crack and the dark horse of the competition.
 Nepal third opponent in the group is Pakistan. This is one opponent they stand a realistic
chance of getting a desired result.
 A new look Pakistani side under Brazilian coaches are no pushovers. They are back in
international football after an interval of three years.

They were in Bahrain preparing for the
 Asian Games.
 If Nepal wish to avoid ending up with the wooden spoon in the group, they have to be at their
very best. There is no room for error and scoring opportunities must be converted.
In addition, they have to deal with the opposition's physicality, aerial domination and pace, as
well. It is anyone's match.


Japanese Head Coach Koji Gyotoku has picked a team packed with familiar names. The 
playing eleven is expected to be made up of players who have been playing together for a
good period of time.


Bishal Rai, Kiran Chemjong and Rohit Chand role will be crucial in the team's overall
performance. As for the other upcoming players, they have to step up and make every bit of
effort to leave their mark.
That said, the key is whether or not the team gets 100 percent effort from all players
throughout.


I still think it is going to be a tall order for Gyotoku boys. I would be more than happy if they
 prove me wrong.


Final word. All Nepal Football Association(ANFA) has done a very poor job when it comes to
 handling disciplinary issues involving some of the Asian Games bound players.


ANFA's failure to take disciplinary action against players who violated the training camp rules
is unacceptable.
 This sets a dangerous precedent and does more harm than good. Discipline is one of the
 cornerstones of success that should never be overlooked or compromised.