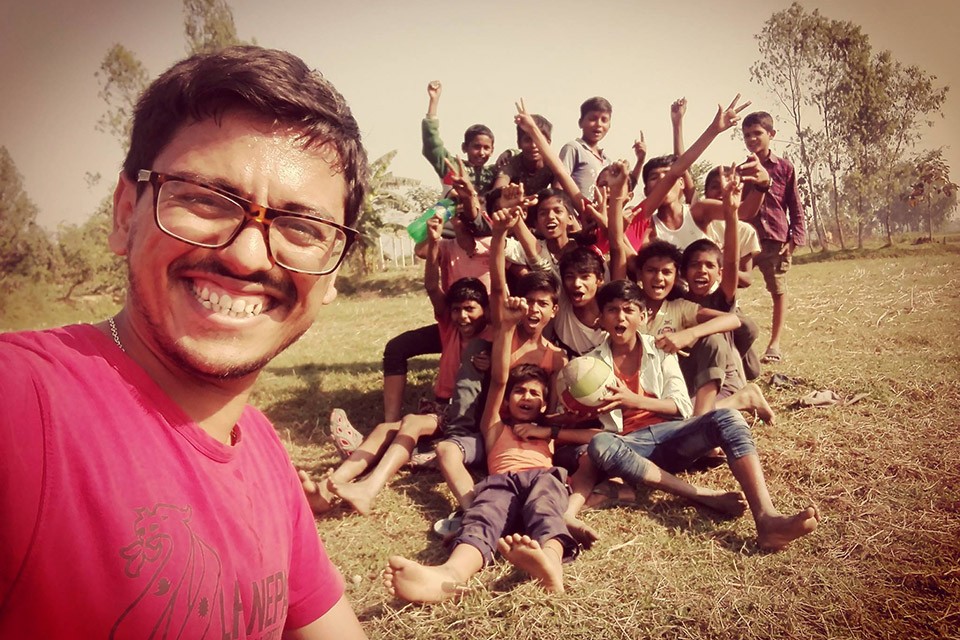 GoalNepal Foundation has launched a special project for districts in province number 2.

The foundation will motivate youth academies, schools and local communities with sporting gears and provide consulation to the district FAs.

In our first project, we are going to Dhanusha district where we will be supporting Bagchaura, a remote village.
The foundation is supporting the village with 25 jersey set, 25 football boots, 10 footballs, 3 GK gloves and 25 shin guards.

Mahesh Silwal, who is a TFN Fellow 2017 and also a change agent in the village, will be the key person in this project in Bagchaura.

Read what Silwal has to say about his village:
I am Mahesh, TFN Fellow 2017 currently placed in Bagchaura, a remote village of Dhanusha district of Nepal. I am in second year of my two years of fellowship and am very much enjoying my role as a change agent in the village.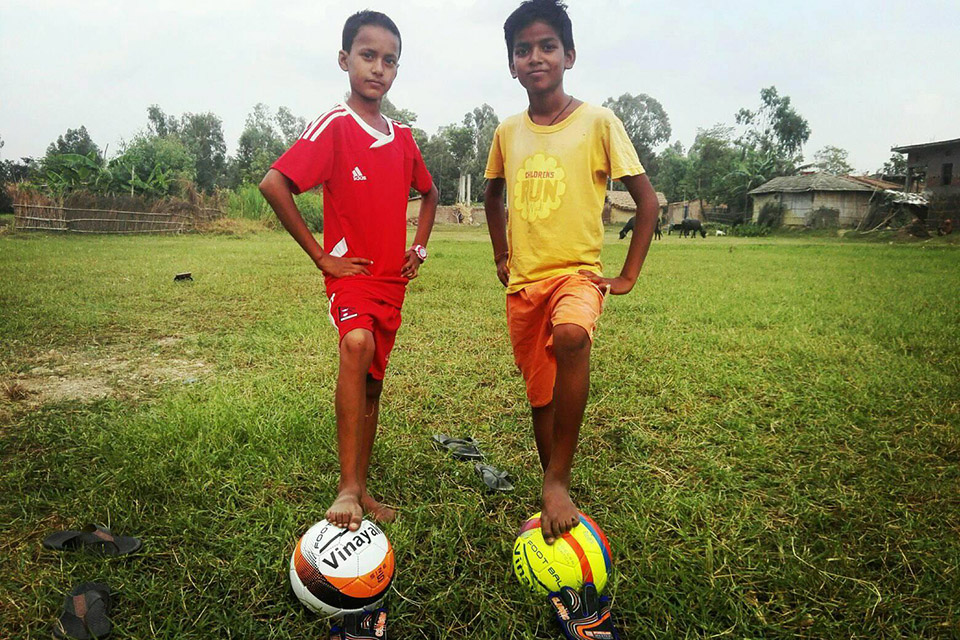 First let me tell you about my village. Bagchaura is a typical modern era village of Nepal where every one of the locals is farmers, large population of youths working in gulf countries, low literacy rate, even lower women literacy rate, superstitious community with costumes of dowry, child marriage and caste system and economically backward. The population comprises of mainly Jha, Yadav, Singh, Sharma, Sahani (whose traditional job is fishery), Mandal, Kaapar and underprivileged group of Paaswan, Khatwe, Das, Mushahar, Ansari, Khatun, Laheri and Sada. Traditional farming and fishery are the main occupation of the locals here. There is a higher secondary school and a primary school in two opposite poles of this village but still the admission rate of students in both the schools are pretty much high however the dropout rate is also high which is very much disappointing fact.

Well, after the short intro of the village that I am working in I'd like to write about an ambitious project of me and my ambitious students. As I was reaching at the end of my first year of the fellowship I started to reflect on the whole year. I started to ask the questions towards myself, 'Why did I join this fellowship? What was the reason that I had selected this place to do my fellowship? Am I doing what I had planned to do before I came into this amazing village? Was my fellowship only meant for making learning fun and meaningful in classroom?' ,so as I kept asking myself these questions and tried to find the answers I came into the point where I decided that I have to do something new in this place, something that will attract students towards classroom more, something from which I could get closer to the students especially the ones who don't come to school regularly, something which will ignite their passion towards learning and something which will bring many kids from different ethnic background together. And finally, that something that I was searching for had been found, and it was a ragged piece of volleyball which, at that time, I happened to see as a football!

Ok, let's fast-forward from the moment when my kids tried to properly kick the ball and got hurt to this day. Today, we have 25 school kids in our team. The number could have been more than 100 if I was not too selective! The reason that I have chosen the kids that are in the current team is that they are passionate enough and they are committed enough. In our team we have players from standard three to standard nine, we have players from diverse socio-economic background, Paaswan, Yadav, Sahani, Mandal, Sharma, Rich, Poor, Short, Tall, Thin, Bulky, Academically strong, Academically weak, Kids who arrive in training on cycle, Kids who come barefooted: our team has all of them. And those players, even though they were good players, who have asked to oust the so called low caste Paaswans from the team have found themselves ousted from the team. Our team is not only a team; our team is a family now. And what is more amazing is my kids have chosen Bibek Paswan, the kid from so called low caste Chamar caste as their captain. I am glad that within less than three months my kids are already learning the essence of team moral, teamwork and unity. The first ever football team of Bagchaura doesn't tolerate racial slurs in the team. And I can see them being aware and taking strong stances against the caste issues in the society as well.

The first three months has been very difficult yet very fruitful three months for us. One of the bright prospects of our team and a brilliant student fractured his left hand in my absence in the training. He had attempted an acrobatic bicycle kick! I came to know this following morning. From that very day, my kids have realized the essence of discipline and the product of going beyond the margin.

Now, they never miss jogging and stretching session before their training every day. The students like Bibek Paaswan, Suraj Paaswan, Dipendar Paaswan, Sujit Paaswan, and Avisek Paaswan whom I knew as the students who had high absence records in the school register are now regulars in their school. It's not that they haven't missed a school day nowadays but they can be seen more in the classroom than outside of it. Along with the football training, my students are also learning English speaking and writing.

Bibek, the captain, the one who finds it very difficult to read and write can now introduce himself in English as he has learned five new English sentences. Suraj, Manish and Avisek, who couldn't give the final exam last year and had to repeat the same class this year, are also learning their trade in English. I can see not only their footballing attributes being grown in this project but also their emotional and psychological aspects have been developing. They now understand what it likes to lose and win a game, they share the glory of scoring a goal in high fives and hugs, they shout in despair after conceding a goal, they pass, they shoot, they get pushed, they fall down, they stand up and they run again. I can see these kids learning many essential life skills through the medium of football. They now know the essence of not giving up easily. Every one of my amazing kids is so special to me. They might never be able to earn their living from football. Or they might never play football when they graduate from school but the moments they are living right now will forever linger throughout their life. The smiles they have put on each other's face, the tears they have shared and the learning they take away from the football pitch will forever be intact in their life. The project is not to turn these amazing little kids into superhuman like Messi or Ronaldo but the project is to turn these little kids into little more aware, little more happy, little more compassionate, little more confident kids.

Well, our team is slowly and steadily growing day by day. We are growing in numbers, we are growing in terms of quality and we are growing as a team. Our kids have introduced an attendance register and attendance system as well as the rule of imposing fine of Rs.5 on absent players. We were able to collect Rs.2435 until last week when the generous ward chairperson Shree Uday Shah donated us Nrs, 2000 from his own pocket due to the lack of sports budget in the municipality, some of us donated from our own pocket to reach the amount of Nrs. 2435.We bought two footballs and two cheap goalkeeping gloves for our goalies with that fund. Now we have no money for further expenditures. Every day on the training someone gets the knock on their ankles and knees, someone puts a dive and gets a cut, some have to bear cramps and some have to bear hamstring. We have absolutely no money to pay for bandages, handsaplast, betadine, moov sprays or any sort of first aid boxes. My kids can't afford for football shoes or for jerseys. They play bare footed and sometimes they play on naked top!

I believe this amazing journey of ours should not be halted by the lack of funds. This thing that is being happening there in Bagchaura is aiding very much on the daily life of my kids. Their learning should not be hampered by this way. We are currently in need of 25 pairs of football shoes, 25 pairs of jersey sets, 25 pairs of leg guards and 3 footballs. The estimated cost of these equipment amounts to Nrs. 39900. So, I request you to help our team through any means that can be possible from your side. You can help us by any means possible and we will accept your generous help towards us with both hands.