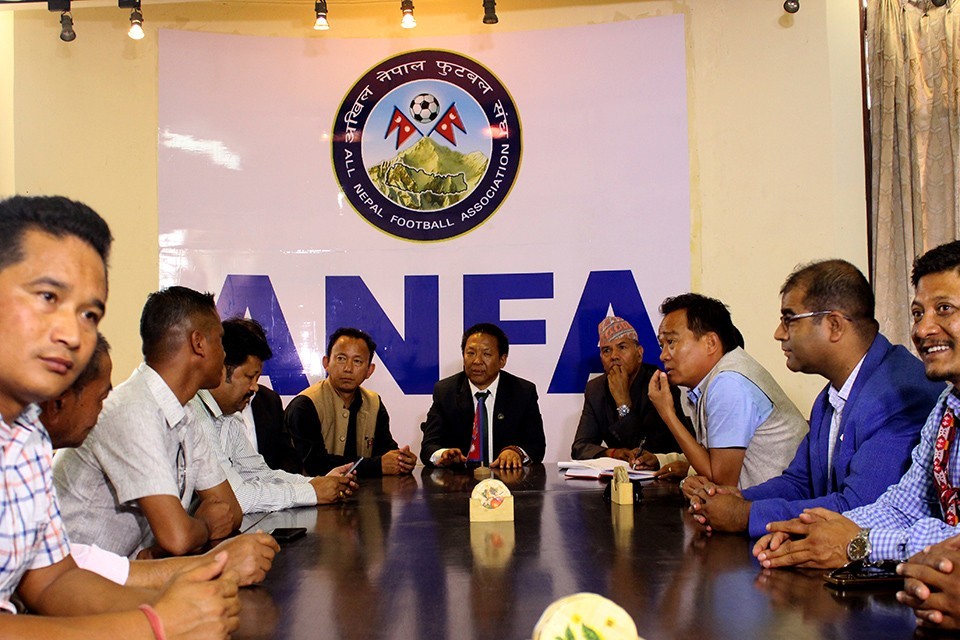 After more than two decades, finally, in a very real sense, there is real change in Nepal Football Association strictly in terms of leadership and management.
I congratulate the newly elected President of the All Nepal Football Association(ANFA) Mr. Karma Tsering Sherpa and every member of his team on their electoral success.
No doubt, the change implies new beginning, new hopes and new opportunity for Nepal football that has been stagnant for far too long.The wait for it to happen was agonizingly long, bitter and frustrating and finally came up the hard way.
We had clamored for most of the last two decades for changes in the way ANFA was governed and managed under the corrupt and failed leadership of Mr. Ganesh Thapa and Mr. Narendra Shrestha but nothing new transpired under the sun.
Mr. Sherpa and the "Save Nepal" group deserve every bit of credit for putting an end to Ex ANFA President Mr. Thapa's stranglehold on ANFA after a long arduous battle. They put the time and effort into making this happen.
As a matter of fact, they sowed the seeds of change, exposing Thapa's wrongdoings and starting a campaign to oust him.
Back then, given Thapa's invincibility, political clout and connection to both AFC and FIFA, toppling him was a tall order and never easy.
However, unperturbed, they continued the fight and never gave up, not until the very end despite setbacks, roadblocks and obstacles.
Finally, Mr. Thapa fell from grace as a result of FIFA suspending him from all soccer related activities for 10 years over corruption allegations and the efforts paid off.
It is fair to say, sans their dogged determination and relentless efforts,change in ANFA would not have been possible.
Mr. Sherpa seemed poised to become the next ANFA President, however, lost to Mr. Shrestha. Defying FIFA ban imposed on him, Mr.Thapa was instrumental in getting Mr.Shrestha elected.
Then Mr.Thapa pitted his brother-in-law Mani Kumar Kunwar against Mr. Sherpa in the ANFA President election.
Leading to the election, there was suspense, drama and uncertainty all around. After the election was postponed for an indefinite period, ANFA was reluctant to announce a new date despite Patan court's refusal to stop it,causing a brief spell of real concern.
The prospect of FIFA suspending Nepal from international football loomed large. The Thapa faction made frantic attempts to thwart and impede the election after realizing they were headed for defeat.
They employed every dirty ploy, including legal challenges, found in the book without much success. The end was somewhat anti -climax with Mr. Kunwar withdrawing from the race, paving the way for Mr. Sherpa to win the election.
Let us get back to the present. Now that he has taken the helm of Nepal football as the new President of ANFA, Mr. Sherpa faces big challenges at both administrative and operational fronts.
As expected, Mr. Sherpa came into office pledging big promises to change and rebuild the sorry state of domestic football.
Whether he keeps election promises, only time will tell. That said, more important, a lot depends on how he handles leadership duties, responsibilities and pressure.
He and his executive members have to demonstrate vision, character, commitment, competence and discipline to put back Nepal football on the right track. Given the size of the task, indeed, it will take an effort of Herculean proportions.
The key is to implement, execute effectively their mission, vision, goals and turning into actions. Let us not forget that long term effective action plans are strategic. With so much to be done, ANFA has a mountain to climb, no doubt.
Mr.Sherpa's leadership will be closely monitored and judged by his actions, not by his words. He has earned a chance to prove himself and prove his critics who have serious doubts about his leadership qualities wrong.
Nepal football is in need of a sweeping overhaul and change of direction both on and off the field. The way football was run must change period in terms of mindset and methods.
It is indispensable for ANFA to maintain a high degree of transparency, integrity, honesty, accountability, regulatory compliance, professionalism and healthy practice in running the day to day affair. There is absolutely no room for petty politics, corruption, bickering oversight and malfeasance.
Unlike previous ANFA administrators, the present administration has to take a very different and constructive path to success.
They must create a conducive environment, build confidence and trust to win back support from stakeholders. Besides, they have to chart out doable, effective strategies, plans and course of actions to develop and market football. Seeking advice from consultants and experts should be a priority.
Everyone agrees that domestic football is in a state of shambles with grassroots level development barely existing and infrastructures negligible. In addition, there is a lack of playing pitches, organization and investment.
Putting their differences aside, efforts must be made to bring the divided football fraternity together to work collectively for the future of Nepal football.
I have high hopes that ANFA under Mr. Sherpa stewardship will succeed.

Having said that, remember, keeping the promises matters most, ultimately, at the end of the day. I hope it does not become lies.