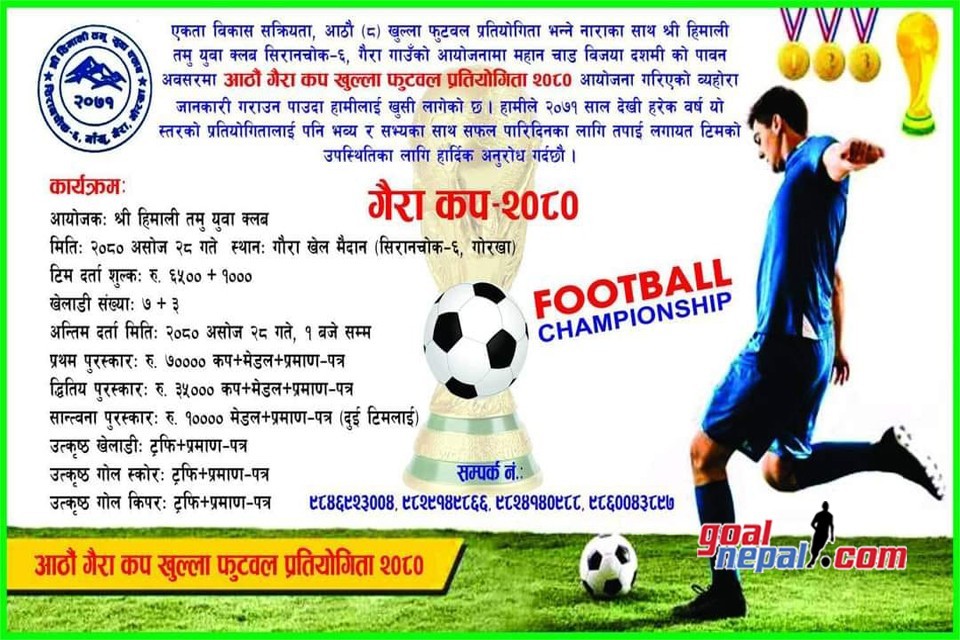 In a festive spirit, the 8th edition of the Gaira Cup Knockout Football Tournament is set to commence on October 28th, coinciding with the celebration of Vijayadashami.

Sri Himali Tamu Yuva Club, situated in Siranchok-6, Gara village, is proud to be the organizing force behind this highly anticipated sporting event.
Team registrations for the tournament, which will unfold at the Siranchok-6 Gaura Stadium, are now officially open. Interested teams have the opportunity to register until the 28th of October, with a registration fee set at 6500+1000.
The victorious team in this tournament will not only clinch the coveted championship title but also walk away with a substantial cash prize of 70,000.

Meanwhile, the runner-up will receive an impressive reward of 35,000, accompanied by a trophy, medals, and certificates. Organizers have also thoughtfully included consolation prizes worth 10,000, ensuring that the competitive spirit remains high.
Furthermore, it is worth noting that special recognition awaits outstanding individuals in various categories, as the organizers have diligently arranged awards for individual excellence.

Football enthusiasts and participants alike can look forward to an electrifying tournament experience on this auspicious occasion."