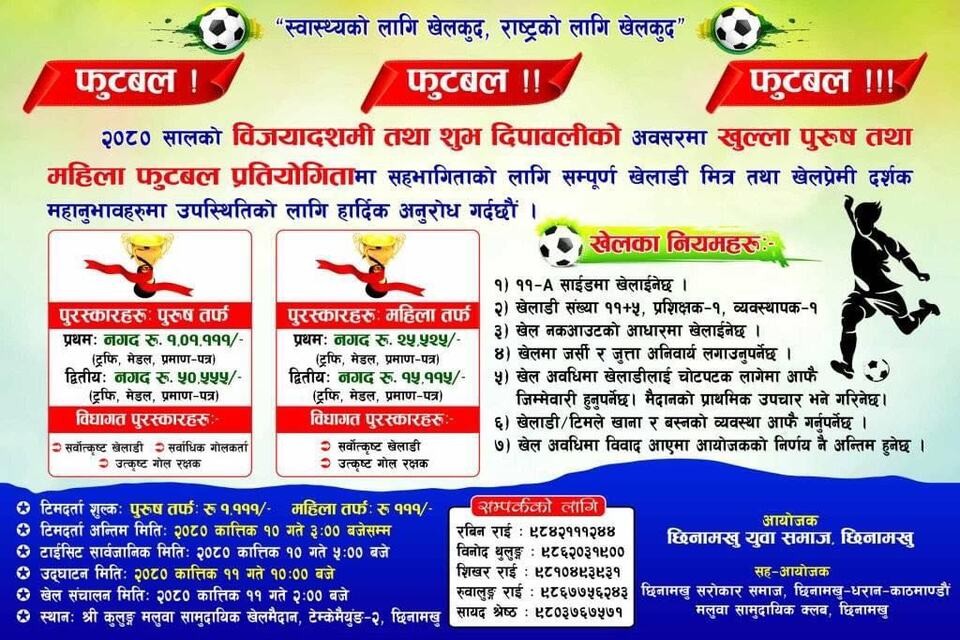 The Chhinamakhu Yuwa Samaj is all set to ignite the spirit of competition with an exhilarating open football tournament that promises to be a sporting spectacle like no other.

The event, to be held at the prestigious Sri Kulung Maluwa Samudayok Khelmaidan in Temkemaiung-2, Chhinamakhu, is scheduled to kick off on October 28th.

The champions of the men's division will not only secure bragging rights but also a remarkable prize of Rs. 101,111. Second place won't go unrewarded either, with a substantial prize of Rs. 50,555 awaiting the runners-up. In the women's category, the triumphant team will receive Rs. 25,525, along with the honor of hoisting a trophy, medals, and certificates.

The women's runner-up won't be left empty-handed either, with a prize of Rs. 15,115, and their own set of coveted trophies, medals, and certificates. This tournament is much more than a display of athletic prowess; it's a celebration of unity, talent, and sportsmanship within the Chhinamakhu community.