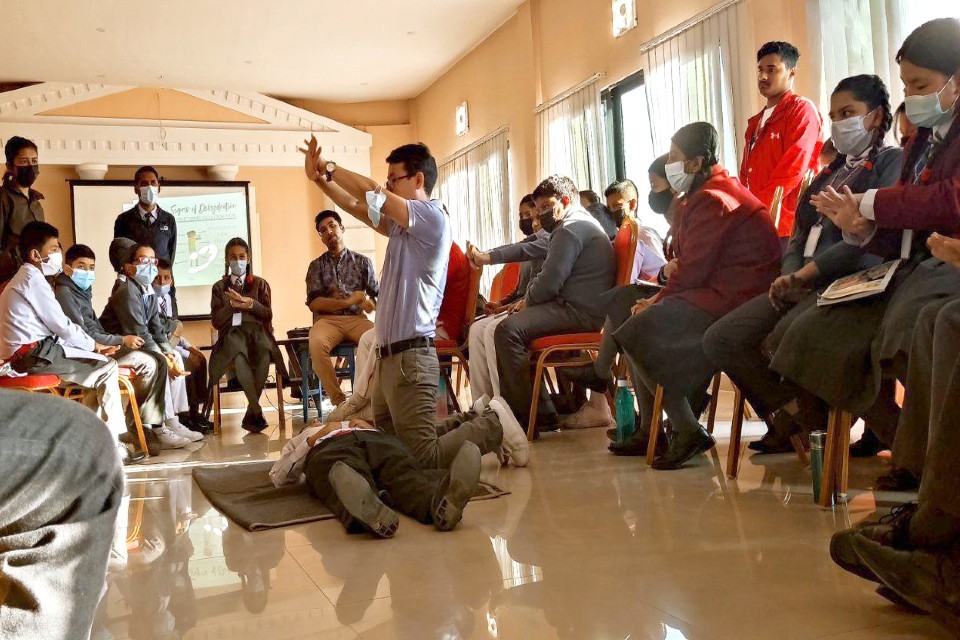 A three-day workshop organized by Kantipur School on Nutrition, Injury, and Cardio Kathmandu.

Kantipur English High School in Dhumbarahi, Kathmandu has organized a workshop on the Considerations in nutrition, injuries, and cardiorespiratory impact on school-level players.

The school, which was established about 4 decades ago, concluded a three-day workshop on Friday. The school organized the program in collaboration with Junior Football Academy (JFA Sports Pvt. Ltd.) in the presence of two doctors who have been working in the field of sports.

Sports Physiotherapist Dr. Ujjwal Dotel who is also the physiotherapist of the Nepali National Volleyball Team and MPT Cardiorespiratory Physiotherapist Dr. Ashish Gurung informed the players and their parents who were participating in school sports about the subject.

They presented information about possible accidents that may occur during the game and how to rescue those who were nearby at that time. What should the players pay attention to in order to reduce injuries, what to do in the event of an accident even if you take precautions? what to do in the case of frequent injuries? Such things were presented in a theoretical and practical way.

Subadra Shrestha, the principal of the school, informed that if the players and parents are informed about nutrition, ways to avoid injuries, and cardio at the school level, they will become aware and help in their dreams of becoming athletes. Shrestha said that along with quality formal education, the school will continue to make students participate in extracurricular activities and continue such programs to bring results.