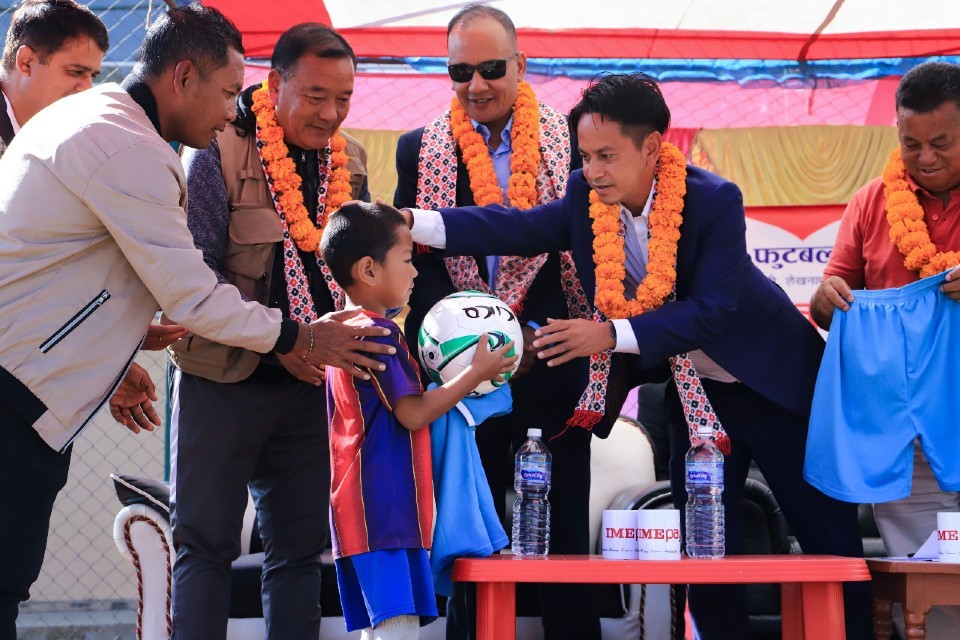 Pokhara - Basanta Gauchan, former international footballer, has opened a football academy in Pokhara. Since last Saturday, the Basanta Gauchan (BG) Football Academy has been operating under his direction. For the past 20 years, he has worked to make Japan a career hub.
The academy began training three months ago, but it was formally opened on Saturday. The academy occupies 15 ropani of land and is situated in Pokhara Metropolitan City Ward No. 27 Rithepani. The academy, which has the capacity to train 200 people every day, has Rajendra Tamang as its director and Shambhu KC as its chief coach.
Bir Bahadur Khadka, senior vice president of the All Nepal Football Association (ANFA), Purna Bahadur Gurung, chairman of Pokhara Metropolitan City Ward No. 27, Dil Bahadur Gurung, and Academy President Basanta Gauchan officially opened the academy by presenting a scholarship and sports uniform to Bigyan Bhagya Bhujel, a student there.
The highest body of Nepali football is prepared to supply instructors and sporting goods for Basanta Gauchan Academy, according to ANFA Central Vice President Khadka, who stated that ANFA will also begin training players between the ages of eight and eighteen from he third week of Mangsir. Basant Gauchan Football Academy, according to Gurung, Chairman of Ward No. 27 of Pokhara Metropolitan City, has given Rithepani its unique identity.
Basant Gauchan, who represented Nepal on the U16 and U23 national teams, rose to fame at the 8th South Asian Games held in Kathmandu in 1999. He then traveled to Japan and started working as a coach at the Funroots Football Academy there.
Even though President Gauchan played football in Nepal from the youth levels to the national team, he claimed that it wasn't until he moved to Japan that he understood what youth football really meant. He claimed that because he had trained youngsters for four years in Japan and had exposed them to the world for twelve years, he felt the need to apply the same model in Nepal, which is why he founded the academy.
According to the academy's president Gauchan, a deal has been made to expand bilateral ties with a number of Japanese academies, including Funroots, as well as the Jugend Football Academy of Germany in Cologne.
Ganesh Bahadur Bhattarai, the former chairman of Pokhara Tourism Council and former international boxing player, said that Gauchan had to go to Japan due to the disappointment of Nepali sports, but he came to support the football of the country after suffering abroad and said that everyone should support the academy together.
President of Kaski District Football Association Ujwal Ranjit, President of Sahara Club Hong Kong Deepak Gurung, Member of Provincial Sports Council Dil Bahadur Gurung, wished for the success of the academy. Director Rajendra Tamang said that he started the academy with a big goal in youth football.
Former Pokhara Tourism Council chairman and former international boxer Ganesh Bahadur Bhattarai stated that Gauchan had to leave for Japan due to the failure of Nepali sports, but after working abroad, he returned to support Nepali football and suggested that everyone support the academy collectively.
Ujwal Ranjit, the president of the Kaski District Football Association, Deepak Gurung, and Dil Bahadur Gurung, a member of the Provincial Sports Council, all expressed their support for the academy's success. Rajendra Tamang, the director, stated that they founded the academy with a big goal in youth football.
POKHARA STADIUM - 10% WORK IS STILL LEFT