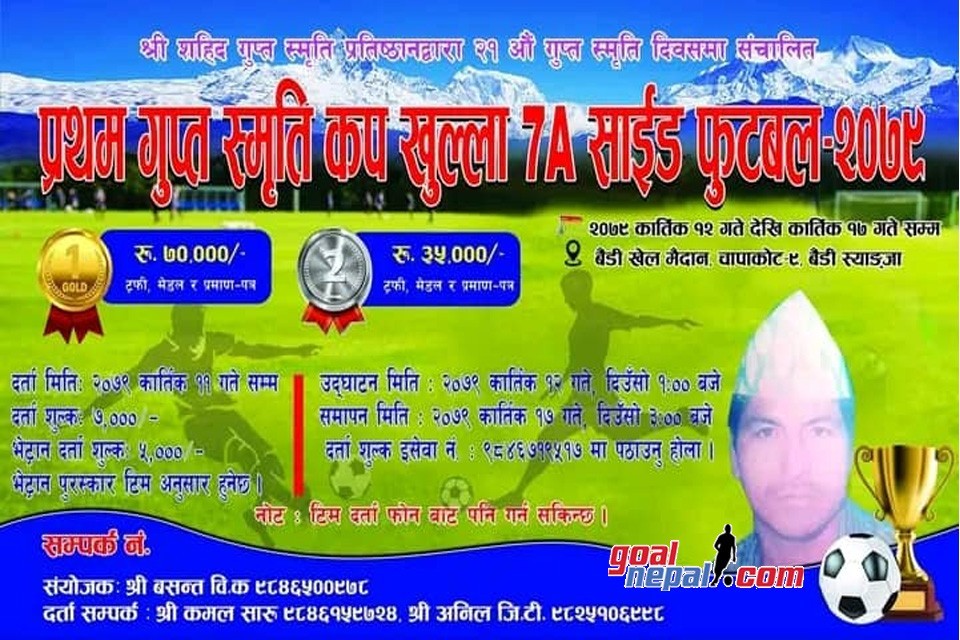 On the occasion of the 21st Gupta Memprial Day, the first Gupta Memorial Cup open seven-a-side football tournament is going to be held from 12th Kartik Shri Shahdi Gupta Memorial Foundation, Syangja.
Sports Coordinator Basant BK informed that all the necessary preparations for the competition to be held at Baidi Sports Field in Chapakot-9, Syangja have been completed. According to coordinator BK, team registration can be done till 11th of Karthik. In addition, the team registration fee is set at Rs. 7,000, said the coordinator BK.
The winners of the competition, which will run until Karthik 17, will receive a title and Rs. 70,000 cash, while the runners-up will receive Rs. 35,000. Similarly, the organizers informed that the players who excel in the individual categories will also be given prizes.
Similarly, on the same occasion, the veteran football tournament will also be organized, according to the organizers. A team registration fee of Rs. 5,000 has been set for the veterans. In addition, the organizers also informed that the prize money for veterans will be decided according to the number of participating teams.
Waling Gold Cup 2079: Helicoptor Lands In The Playing Field