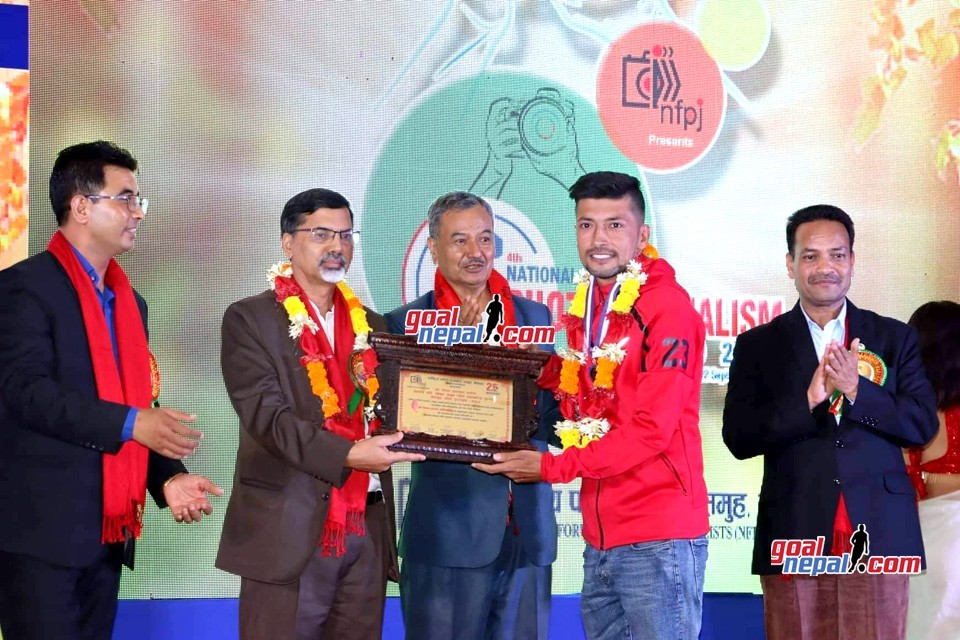 GoalNepal.com's senior photojournalist Bikram Baniya Chhetri has been honored with the prestigious Harigopal Pradhan Photojournalism Award. The National Forum of Photojournalists, Nepal honored Baniya at a program in Kathmandu on the occasion of its 25th foundation day.
Baniyan, who has been continuously practicing sports journalism residing in Makwanpur district as his work base, has been given the prestigious award in the field of sports. Bikram Baniya is also a well-known name in the field of sports journalism in Makwanpur, who has been involved in GoalNepal.com and has been making significant contributions to football photojournalism in particular.
Journalist Baniya was honored with a certificate by the Minister of Finance of the Government of Nepal, Janardan Sharma. Youth and Sports Minister Maheshwar Gahatraj and others were present on the occasion.
After being awarded, journalist Baniya said that he was happy to have got the award and more responsibilities have been added to him in the field of sports journalism. He also expressed gratitude and thanks to the National Forum Of Photojournalists, Nepal as well as his colleagues, well-wishers and elders for this honor.