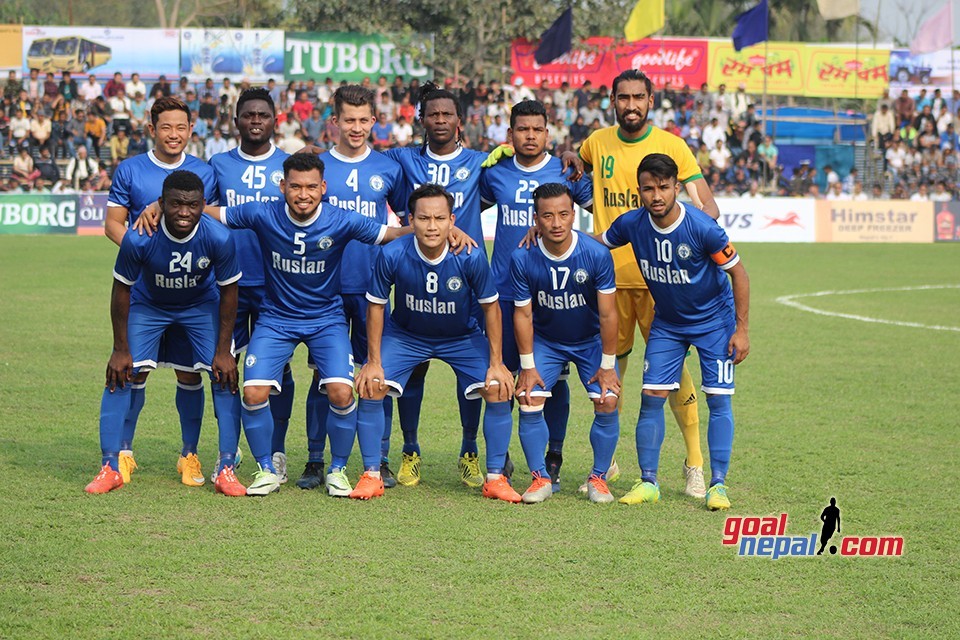 Ruslan Three Star Club marched into the semifinals of 3rd Jhapa Gold Cup defeating Nepal Armed Police Force(APF)Club 1-0 in the first quarterfinal match at Domalal Rajbanshi Stadium, Birtamod on Monday.

Ajayi Martins scored the match winner in the 57th minute.
Goal scorer Martins was declared the man of the match. He was awarded with twenty five thousand rupees.
TSC Starting XI: Alan Neupane(GK), Peter Segun, Ananta Tamang, Bijay Dhimal, Rejin Dhimal, Lawal, Buddha Chemjong, Deepak Rai, Ajayi Martins, Nirajan Khadka(C), Sunil Bal.
APF Starting XI: Amrit Chaudhary(GK), Sudeep Shikhrakar, Ramesh Dangal, Milan Rai(C), Rajan Gurung, Shyam Nepali, Rajendra Rawal, Roop Lama, Santosh Shrestha, Nabin Lama, Hari Karki.

Kathmandu based club, MMC will take on Pokhara based Club, Sahara Club in the second quarterfinal match tomorrow.
Jhapa gold cup organizing committee is organizing the championship that has a winning purse of Rs 12,51,000.
Runners up team will receive Rs 6 lakh.
Qatar Airways Martyr's Memorial A Division League: MMC Vs Nepal APF