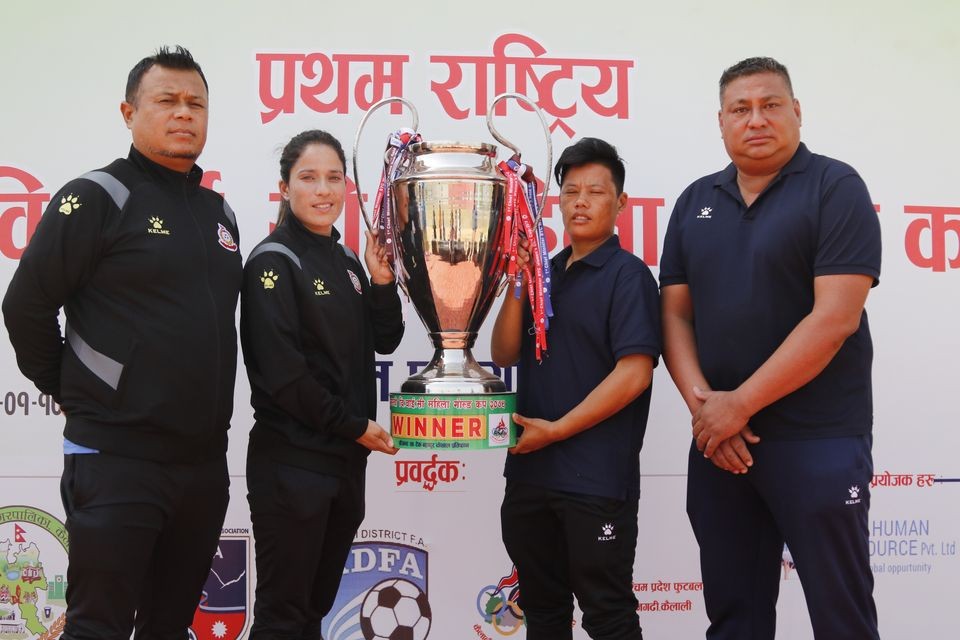 APF Club and Nepal Police Club are battling for the title of the First National Chief Minister BYC Women's Gold Cup Football Tournament in Dhangadhi, Kailali on Saturday. In the final to be held at Dhangadhi Stadium on Saturday evening, both the teams will compete for the title.
In the pre-match conference held at Dhangadhi Stadium on Friday, the captains and coaches of both the finalist teams claimed that they will play to win the title. APF captain Anita Basnet, who is in excellent rhythm, said that she will play to win the final. She claimed that her team would win the title despite some difficulties while playing at night.
"Playing first time under lights, there is a problem of losing the rhythm of the game when the light goes out", said Anita. "We are in a final after seven years and we are excited. We are preparing to win." APF coach Janak Singh Tharu also stated that his team will play for a win. "We have been playing well in the league and have beaten Police in the past", said Tharu. "We will try to repeat the same".

Nepal Police Club has also claimed that their team will play for the title. After reaching the final after a long time, Police captain Ghim Kumari Gurung also said that her team would play to win. "We will play to win. Everyone has prepared accordingly", Captain Gurung said. "We are getting new experience under lights which is also fun. If we played in the afternoon, it would be hot. It becomes easier at night."

Police coach Sanjib Joshi also said that they will play in the final to win. "We have reached the final after many years. We will play to win", Coach Joshi said. "There are some problems with the field. It is difficult to play the ball as desired. The team is also making progress."

The winner of the tournament, which will conclude at Dhangadhi Stadium on Saturday, will receive Rs 5,00,000 in cash along with the trophy and the runner-up will receive Rs 2,50,000 including the trophy.

The Oman of the Match will get Rs 5,000, the best player of various disciplines will get Rs 10,000 and the best player will get Rs 50,000 in cash, said Susan Joshi, president of the organizing club. As it is very hot in the afternoon in Dhangadhi, a night competition has been organized for the first time. The main promoter of the competition is the Far-Western Province Sports Council.
Far Western Khaptad Gold Cup: Far Western Vs Chyasal Youth Club Spot Kick Battle - VIDEO