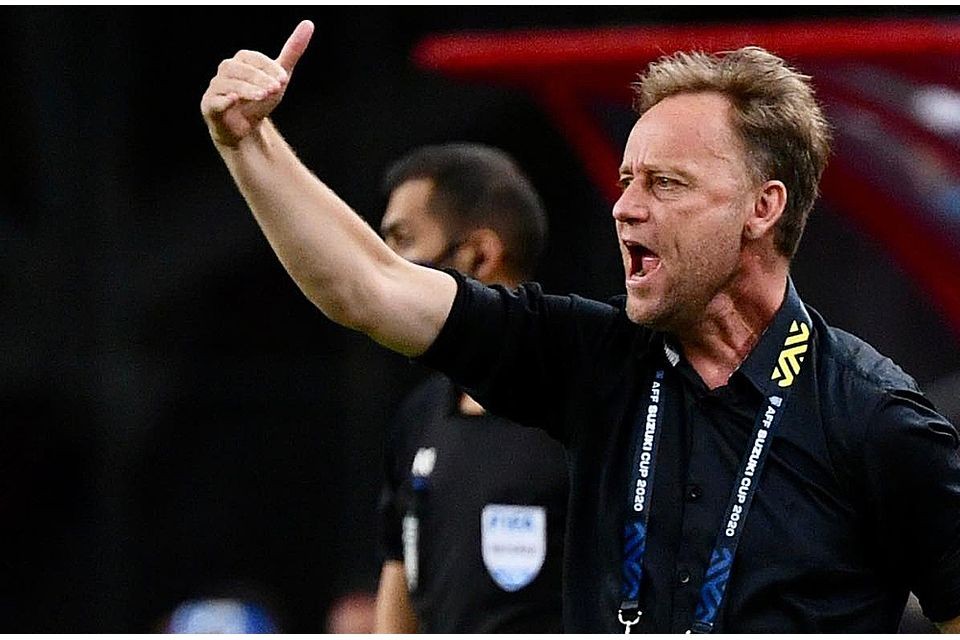 In the aftermath of Nepal's friendly against Thailand on Wednesday, we sat down with Alexandré 'Mano' Pölking to talk about that match in particular and more.
Here's a GoalNepal exclusive interview with the Brazilian-German coach who resides in Thailand right now.
How do you sum up the performance of the Thai national team against Nepal?
We had scouted Nepal and watched some games. Nepal was chosen because it competed against the Maldives and Sri Lanka, two of our opponents in the qualifiers, and defeated both teams. As a result, we chose Nepal to get a sense of the teams and how we can compete and prepare for June.
Nepal was expected to be more defensive. Nepal has a large number of young players who are familiar with Thailand's standards. As a result, they took the approach of being more compact, defending well, and getting one good counter-attack. I think they did a good job with the strategy they chose. They had a strong defensive strategy, making it difficult for us to find spaces.
Our goals were scored at the very end, with the first goal causing some debate. Overall, I'm pleased because we dominated the game and did not allow any chances while creating numerous opportunities. We didn't look sharp or hungry enough to score with the chances we had, but it was a good game overall.
With 25 attempts on goal, did you expect more goals from your team? Was the performance in the final third a bit more detached?
I always say that I don't go to games these days expecting a lot of goals. Expectations of 5-0 or 6-0 are no longer realistic. We must show respect for our adversary. What happened with Italy and North Macedonia is well known. They had 24 chances and are now out of the running for the world's most important tournament. As a result, you have to take every game seriously and take the chances, and we didn't do so well. We did create, control, and have a lot of possession, as you know.
Nepal could have countered, scored a goal, and become more motivated to defend a goal, making things difficult for us, and I'm glad we won. it isn't as easy to win as it used to be with such large margins. Players are now physically stronger and can run and fight, making games much more difficult.
How did you access the situation leading up to the first goal?
You could argue that now I'm allowed to speak about it because the foul was on Nepal, not me, and we won, but as I've said in previous interviews, the man responsible for such situations is the referee, not the players. Because VAR is pretty much everywhere these days, the players must play to the whistle regardless of the situation. It appears to be simple for me to say now, but even if it were on my shoulders, I would not complain. You can rest assured.
I always tell my players to keep playing until the referee blows the whistle. This is how the big boys play, and I believe it is the correct way to play. There are times when you must stop the ball from rolling due to injuries or major fouls, but my player must decide whether or not to continue playing in a split second. He can't stop there. Even if it weren't in my favor, I'd say the same thing.
Now that you've played against Nepal, did any of the players impress you? Was there anyone in particular that you think might have big potential?
Nepal has a young team, and each coach has their favorites, but I liked Aayush Ghalan, the right-winger. He's only 18 years old, and I like it when players play that position with their left foot and always try to take on opponents. And he was attempting to do so, and he succeeded in doing so in some instances. He may not have always gotten the final pass, but he was the one who caught my eye because he was always trying to go all out whenever he had the ball 1v1. He appeared to be strong and attempted to dribble inside.
The goalkeeper, in the meantime, was also putting in a strong showing. He did a good job sweeping and making some good saves. As a result, I'd say these two have piqued my interest.
Nepal head coach Almutairi said that Thailand will need to be wary of the Maldives and Sri Lanka because they have a better counter-attacking and vertical play and better physicality than Nepal. What do you think about those two teams?
We immediately began studying the teams after receiving the draw. We've already received reports on all three teams we'll face in the qualifiers. We needed to study Nepal because they had recently defeated them, and we saw that the scores were 3-2 and 1-0. These were tough matches with close results, but it was important for us to see that level of football against Nepal because these are teams we haven't faced in a few years. I believe we got them the impression that we desired, but we still don't know their strategy because even Nepal had different strategies against them and against us.
We'll have to assess their strategy and prepare accordingly, whether they attack or defend and wait for counterattacks. My only goal is for my team to play dominant football, similar to what we did against Nepal, while also being aware of defensive transitions. And this is what we'll work on before we meet up and fly to Uzbekistan.
You've lived in Thailand for over ten years. You've coached a few teams in the local leagues and have spent some time with the national team. In the ten years you've been in Thailand, how has football changed?
We need to let go of the COVID era because it caused a lot of financial problems for the teams and stunted their growth. However, the infrastructure is now better than it was ten years ago. "If you want to improve the national team, you need to raise the level of your league," I always say, because that's where the majority of your players play. They require better facilities, a more competitive league, and a better training ground. That's the only way they'll get better. Also, when it comes to the foreign players we bring in, you need to bring in players who are better than the locals so that they can learn from them.
The most important factor is the league's quality and the clubs' infrastructure. Good training pitches, proper nutrition, and good coaches, as well as physiologists, are required of the teams. I'm referring to the club's organizational structure. And if all of the clubs improve, the national team will improve as well.
The new guys will automatically be better if they can learn in a different environment than the old guys. In Thailand, I'm seeing a new generation emerge that is far more professional than previous generations. They are getting better training facilities, which is helping them become better players.
I'd like to dream big. I've lived in this country for a long time because I adore it. I didn't expect to be here for so long, but the country has been extremely welcoming. And my family enjoys living here. It's also favorable to my daughter. As a result, we decided to stay and pursue my career here. I'm still a young coach, so I think we should keep working together. We have a lot of work ahead of us, but we must continue to dream big. With more countries participating in the next World Cup, we can hope that one of the ASEAN teams will qualify, which would be huge for the region.
Thailand's U-19 national team coach, Selva Garcia, has discussed the development of the players there, as well as the players he coached at the youth levels who are now in the national team. Is it realistic to expect Thailand to compete with the Asian heavyweights and qualify for the World Cup?
I know it's difficult to say, but I truly believe that. I believe that if we work hard for the next few years, we will succeed. Because, as I previously stated, the new generation is performing admirably in their clubs. They have the quality and infrastructure to continue playing at that level. And I believe it is because of this that we are able and capable of dreaming. There is a lot that needs to be done to make that dream a reality. It used to be that only four Asian countries that qualify for the World Cup, and the fifth had to go through the playoffs. Now, there are eight Asian countries that will qualify for the World Cup in 2026.
However, doubling that now allows us to be there if everything goes well. Japan, Korea, Australia, Saudi Arabia, and Iran are still ahead of us. They are physically stronger and play in better leagues than we do. I simply mean that if things go well and you believe in yourself and work hard with a good game plan and strategy, we can beat one of these teams one day, and it's not about beating them and finishing ahead of them. Now it's all about finishing eighth or seventh in Asia and qualifying for the World Cup. That will be a whole new chapter.
I always tell my players it's not about beating Nepal or any other nation or winning the Suzuki cup. We need to be concerned about the next step. I don't believe we need to beat Japan, Korea, or Iran to advance to the next level. We must compete with them, and only then is anything possible. We need players with good personalities who ask for the ball and follow a method and strategy when they play. Everyone knows how much I enjoy playing attacking football, so why not challenge these big guns and compete? If you complete, you always have a chance just like North Macedonia. You can say they didn't play well but they hung in there and beat Italy at the end.
The final round of World Cup qualifiers features 12 teams. Imagine finishing fourth in your group in order to qualify. We might as well give up if we can't even dream that.
'Never stop dreaming.'