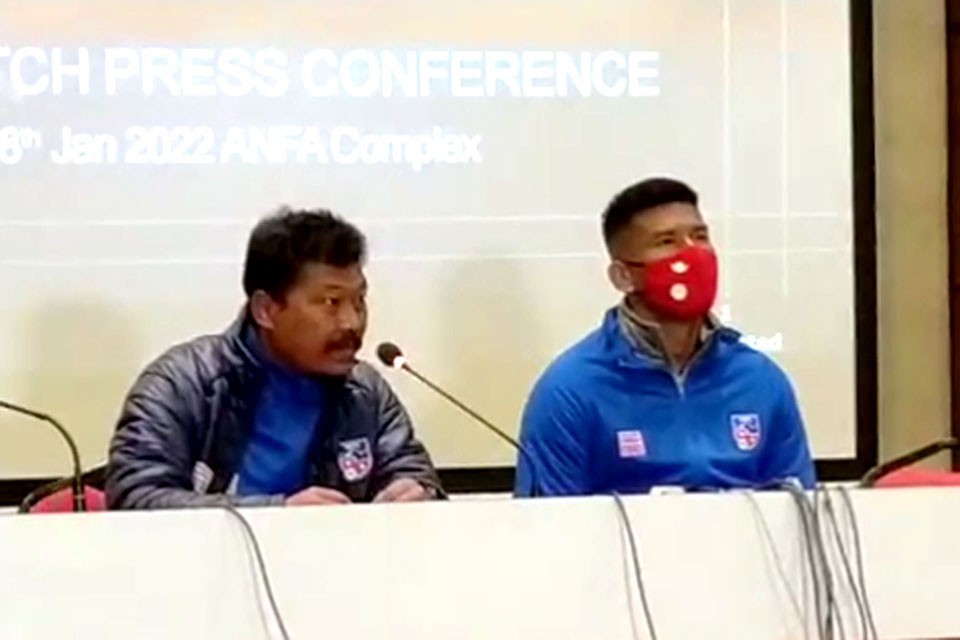 Nepal will take on Mauritius on Saturday, 29th of January on the first friendly of two in Kathmandu. The sides will take the field at 4:45 PM at the Dasharath Stadium.
Mauritius arrived in Kathmandu a few days ago and is preparing for the matches at the Army headquarters and ANFA Complex, Satdobato. Nepal, on the other hand, started the training camp as soon as the A Division League halted 12 days ago.
Mauritius are in Nepal as part of their preparation for the preliminary round of the AFCON 2023 qualifiers. Nepal will be looking to get set for the Asian Cup qualifiers that are fast approaching.
Rankings:
Nepal is currently ranked 169th in the latest FIFA rankings while Mauritius isn't far off at 172nd place in the world.
Team news:
Mauritius arrived in Nepal one player short with Kevin Perticots testing positive before taking the flight to Nepal. Four further positive cases were announced after the team landed in Nepal. But two of those four positives have been tested negative and have joined training on Friday afternoon. Kerlson Agathe and Loic Michel rejoined rejoin the team and participate in training. Hans Patate and Walter St Martin will still need to isolate. Meanwhile, two more positive tests came out as well. Midfielder Pascal Colin and Abdool Madarboccus, a part of the medical staff have tested positive. The rest of the squad will be in contention to start. With COVID restrictions affecting selections, Mauritius head coach Tony Francois has opted to travel with the players playing their professional football in Mauritius.
Nepal national team coach Abdullah Almutairi on the other hand opted to use two different squads for two friendlies to give chances to all 34 players who joined the training camp led by skipper Kiran Chemjong. Tikendra Thapa, Sudip Gurung, Akash Budha Magar and Krittish Ratna Chhunju have been called up for the first time. Bimal Gharti Magar, Jagjeet Shrestha, Devendra Tamang are back into the squad after lengthy absences.
Squads:
Nepal: Kiran Kumar Limbu(GK), Deep Karki (GK), Tikendra Thapa (GK), Gautam Shrestha, Dinesh Rajbanshi, Devendra Tamang, Suman Aryal, Suraj Jeu Thakuri, Sudip Gurung, Suman Lama, Tej Tamang, Bishal Rai, Sujal Shrestha, Manish Dangi, Anjan Bista, Aashish Lama, Darshan Gurung, Bimal Gharti Magar, Sunil Bal, Nitin Thapa, Aakash Buda Magar, Kritish Ratna Chhunju, Jagjeet Shrestha
Mauritius: Kevin Jean-Louis, Loïc Michel, Walter St Martin, Rodney Castel, Vashist Calcutta, Stephane Gentil, Nathan Spéville, Nando Jackson, Damien Balisson, Kerlson Agathe, Fabrice Brasse, Adrien François, Adrien Botlar, Pascal Colin, Mervyn Jocelyn , Hans Patate, Stephan Nabab, Owen Foolchand, Nilesh Rasdarising, Linsley Brasse , Kengy Saramandif, Ashley Nazira, Andy Sophie
Recent results:
Nepal's recent series of matches came at the SAFF Championship where Nepal finished as the runners-up with a 3-0 loss in the final against India.
Mauritius, meanwhile, haven't played a single international match since September 2019 where they lost 2-0 to Mozambique as part of the first round of CAF World Cup qualifiers.
Broadcasting and ticketing:
The match will be broadcasted live on Kantipur TV. The tickets for the match are available on the SajiloPay app.
With distinct philosophies and directions, physicality and tactical gameplay will be tested in this matchup.
Nepal Vs Mauritius 2nd Friendly Match Highlights