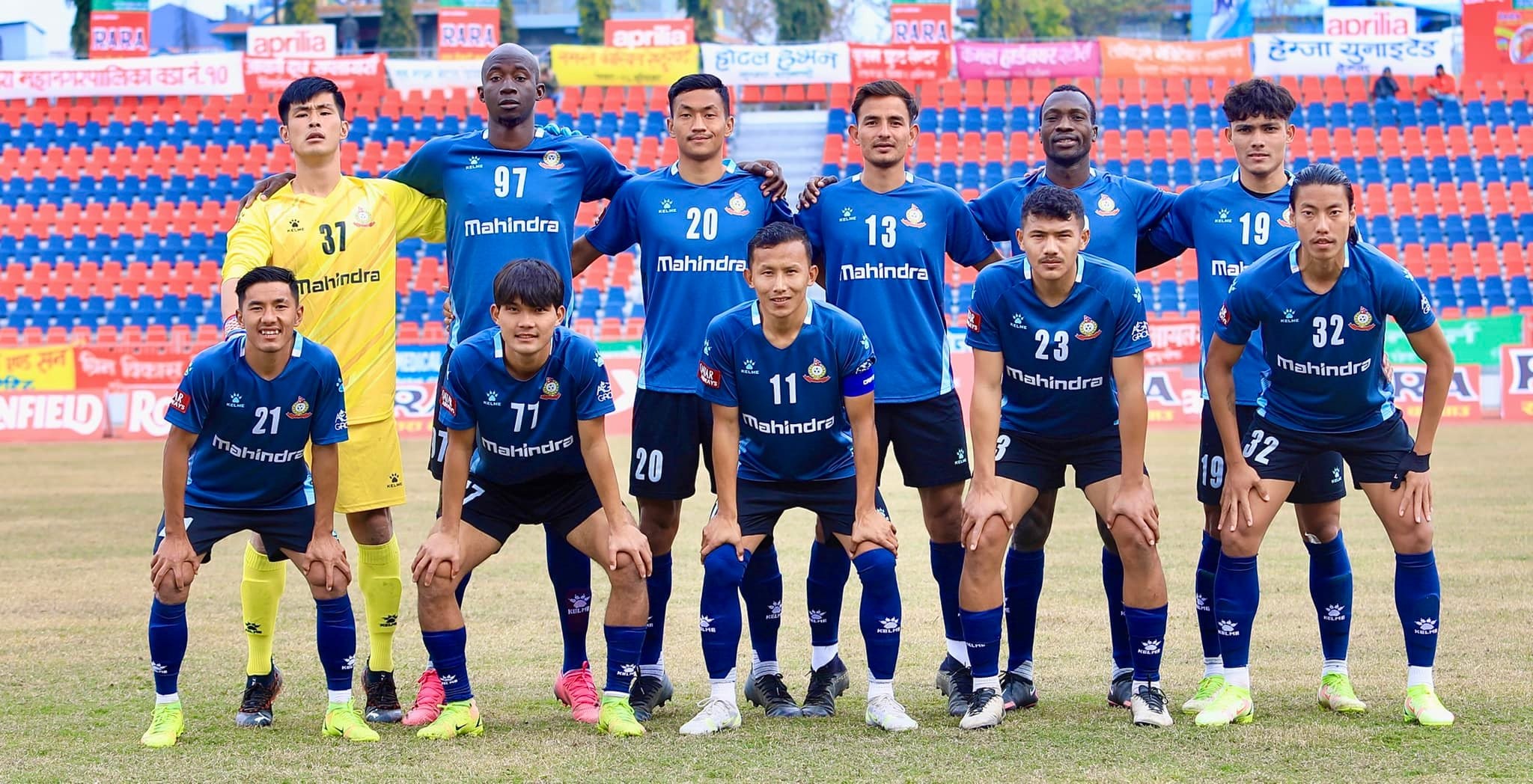 APF Football Club have entered the semi-finals of the Aaha Rara Gold Cup 2078 with a 3-1 victory over the Bhutanese Youth Sports Club, Minnesota, USA.

In a match held at Pokhara Stadium, APF turned around one-goal deficit to reach the final four of the tournament.
BYSC team, a mixture of Nepali and foreign names arrived in Nepal a few weeks ago to get used to the Nepali climate and held a camp in eastern Nepal before participating in the tournament.
In a rather substandard first half, no big chances could be seen from both sides and it ended 0-0 in the first fourty-five minutes. The second half on the other hand was highly competitive with a lot of chances created.
BYSC who were playing for the first time in Nepal took the lead at the start of the second half through defender Megal Palafox who found himself in the opposition box for a setpiece and put the ball in the back of the net.
But the American outfit couldn't hold on to the lead. A Hector Trigueros defensive lapse in the 69th minute awarded APF a chance to score from the spot. Avash Lamichhane thumped the ball to the back of the net to level the scoreline and made it two goals in two matches for himself.
In the 84th minute of the match, a cool and calm finish from substitute Rabi Thing gave APF the lead lead. A layoff for him inside the box was put into the back of the net by Rabi with his left foot.
Rabi Thing again made sure that the departmental outfit reach the semi-finals of the prestigious tournament with a long ranger finish in the third minute of stoppage time.
Rabi was also named the player of the match and received Rs. 8000.
APF will now face the winner of the quarterfinal between Machhindra Football Club and Sankata Club on the 27th of January.
The tournament being held in Pokhara by Sahara Club will award NRs 10 Lakhs to the winners. The final of the tournament will be played on January 29, 2022.
Sahara Club President Suraj Gurung Talking About 20th Aaha! RARA Gold Cup