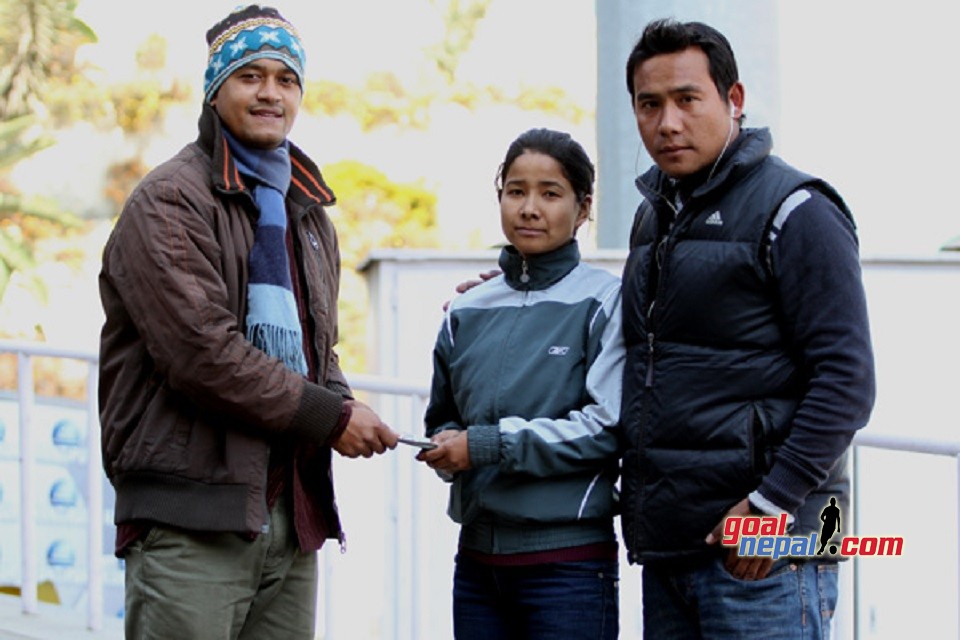 GoalNepal.com & Yeti FC, Australia have jointly donated Rs 23,000 to cancer suffering Kumar Lama, who is on bed rest after amputating his left leg, which was damaged by Femur Cancer.
Yeti FC donated Rs.18,000 to GoalNepal.com fund.
The money was handed over by GoalNepal.com CEO, Bikram Thapa to the sister of Kumar Lama, Lamin Lama.
Young football player Kumar Lama, associated with Boudha FC, had to undergo latest operation to amputate his left leg.
Lama was admitted to B&B hospital on Monday and his leg was mutilated on Tuesday evening after seven hours of operation.
Dr. Om Prakash Shrestha and the team took the responsibility of the operation.
Lama played past league donning jersey of Boudha FC.
Lama had completed first stage of his treatment in India but the situation didn't improve. Doctors in Nepal then decided to cut off his leg to prevent spreading cancer.
Doctors involved in Kumar's treatment didn't want to comment more but they said that Kumar needs to be in hospital for some weeks.
Lama's family has already spent more than ten lakhs rupees for the treatment (including series of operations) - money mainly collected on loan.
GoalNepal.com initiated the campaign to collect fund for Kumar. Boudha FC, Yeti FC Australia, well wishers from America and some local people have supported Lama financially for the operations, which is insufficient.
Lama's mother has a small grocery shop in Boudha while his father recently came back from Saudi Arabia where he worked as a labour.
GoalNepal.com CEO, Bikram Thapa appealed all Nepalese football lovers to help ailing Kumar Lama.
"Yeti FC & we have done a little. We strongly appeal all who want to help ailing Kumar Lama to cover medical expenses", said CEO Thapa.
"We also strongly urged ANFA to come forward & provide some support to the player", added Thapa.
If you want to help, pls write an email to goalnepalfund@gmail.com
GoalNepal.com wishes quick recovery of Kumar Lama.