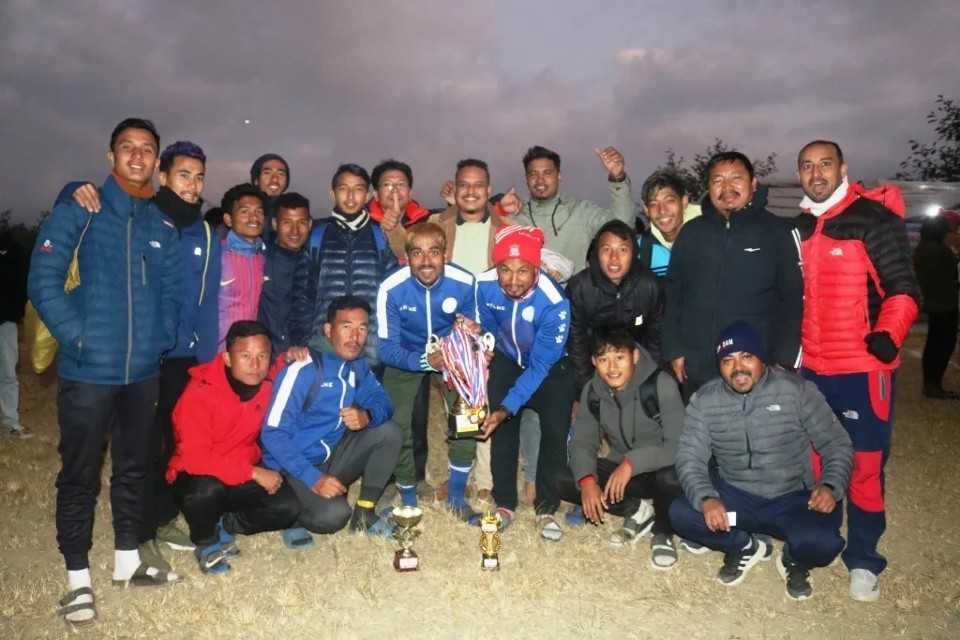 FC Red Star Birtamod of Jhapa has won the Phidim Nagar Cup Football Tournament at Ranitar, Panchthar, making history. Jhapa has made history by winning the municipal cup for the third time in a row. Red Star had won the previous two editions as well.
In today's final at Baraju Stadium, Jhapa defended their title by defeating Taplejung's Kandarsin Sonam Memorial FC 3-0.
Jhapa scored three goals in the first half of a competitive match. Jhapa took the lead in the 18th minute as Milan Rai scored the first goal. Similarly, in the 25th minute, Rohan Karki doubled the lead. Captain Saroj Karki scored the game's decisive goal, as well as Jhapa's third goal, in the 30th minute. Milan Rai of Jhapa was named the final's man of the match..
Bishal Khawas of Jhapa was named the best defender. Anup Sendang, the captain of Taplejung, was named the best player. Prince Limbu of Jhapa was the best goalkeeper. Som Magar, the captain of Church Boys, was the tournament's top scorer.
Jhapa, the winner of the final tournament received Rs 150,000 in cash, while Taplejung, the runner-up, received Rs 80,000.
Swatantra Club Ranitar was organizing the competition. Onahang Nembang, Chief of Fidim Municipality, and Gopal Prasad Gurung, Chairman of Ward No. 7, presented the prizes to the winners and runners-up. Rupendra Tamang, Secretary of Ranitar United, presided over the closing program, which was hosted by Bal Bahadur Gurung, President of Swatantra Club.