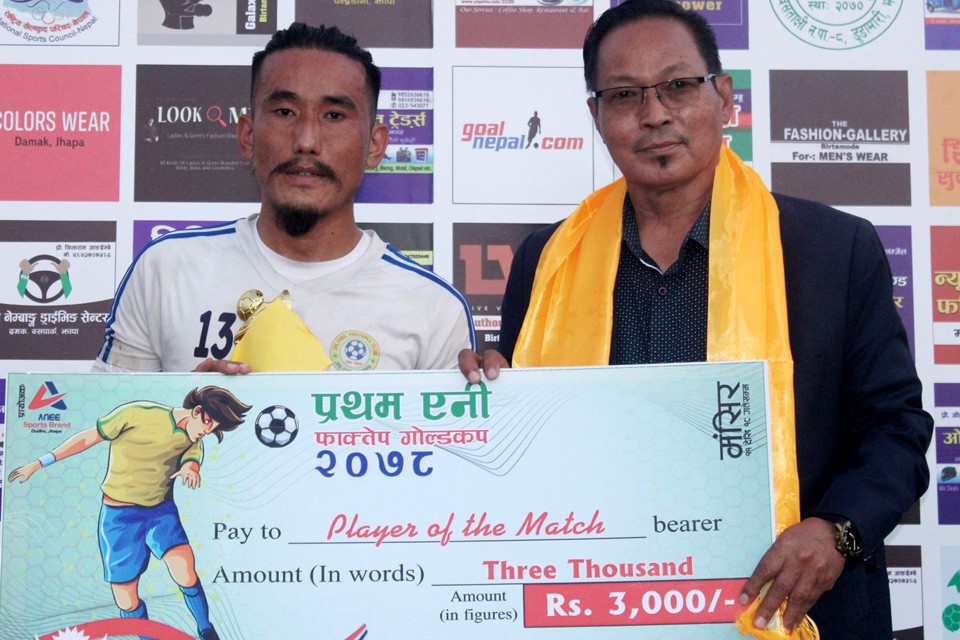 The first Ane Faktep Gold Cup, held at Shivasatakshi 7, Jhapa, has seen Jalthal FC Haldibari advance to the semifinals.

Jalthal advanced to the quarterfinals after defeating Royal Sporting Club of Damak 2-0 at Faktep Stadium.

Jalthal's Shyam Murmu scored the game's first goal in the 23rd minute of the first half.

In the same way, Rajkumar Kandangwa doubled Jalthal's lead in injury time. Kandangwa was named the Player of the Match as well.

Jal Kumar Gurung, Chairman of Jhapa XI Football Club, presented him with the trophy and Rs 3,000 in cash.

The tournament, organized by Faktep Football Club, features eight teams.

The Dharan City of Sunsari and May Valley Sporty Club of Ilam will meet in the next game on Monday. The tournament winner will receive Rs 1,01,000 in cash and a trophy, while the runner-up will receive Rs 51,000 and a trophy.

The tournament's final will take place on November 30.
JALTHAL FC JHAPA ENTERS SFs 2nd BHAGIMAN MEMORIAL CUP