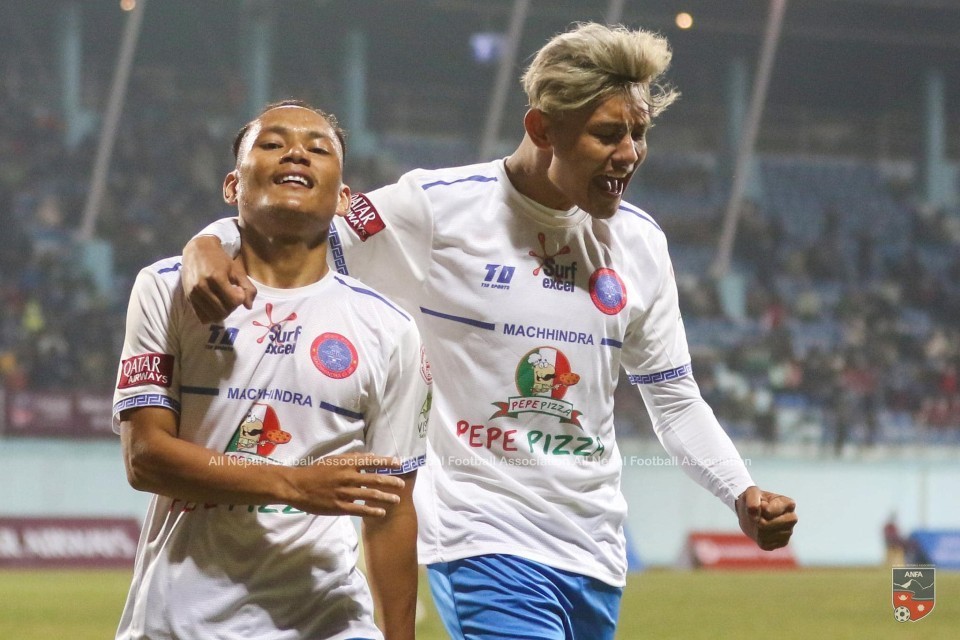 As I write, the much anticipated Martyr's Memorial A Division League Football tournament has kicked off in Kathmandu.

After several postponements, All Nepal Football Association (ANFA), the organizer, finally overcame uncertainties, logistical and administrative impediments to finalize the date for the competition.

The league features fourteen teams, including newly promoted Satdobato Youth Club that replaced Saraswoti Youth Club relegated to B Division.

Unlike in the past, the league will be played on weekends only. This is a good move on part of ANFA as it gives players the much-needed rest and recovery time between games.

Since the league is demanding, strenuous, exhausting, taxing and played for a long period of time, players face challenges with fitness level. Apparently, it will be a long slog for players and teams.

Besides, these teams participate in countless domestic tournaments throughout the year sans proper rest and recovery time.

Obviously, it puts further mental and physical strains on players. And there are risk factors for burnout and career-ending injuries.

ANFA must reorganize the calendar year (that is usually congested and very poorly planned) in the best possible way to protect players.

The Martyr's Memorial League is being played in Dasarath Rangasala, ANFA complex and Chyasal stadium. The playing surface has been a big issue in terms of playability over the years. It continues to be so to this day.

I just wonder if playing surfaces both natural and artificial, meet the requirements of the FIFA Quality Program for football turf or the International Match Standard. In fact, it is an ongoing issue that has not been addressed properly and sufficiently by ANFA.

Year after year, they have gone ahead with the league putting players at risk. The playing conditions have slightly improved but still remains questionable. As a result, players are more prone to getting hurt and injured, which would ultimately impact the overall performance of the team.
What amazes and infuriates me the most is that even participating clubs in the competition have chosen to remain silent on the subject, presumably because they don't want to be in the bad books of ANFA.

This proves that they have very little concern for players' health, safety and wellness. It is a shame to ignore such an important aspect of players' safety. Keeping players safe comes first and they must be protected regardless.

Let me repeat, it is extremely important that the playing field is in excellent shape, otherwise, it will increase the risk of injuries.

In order to safeguard and ensure players' career. ANFA must make it mandatory for Clubs to provide insurance to the players. To put it simply, players are employees of clubs and eligible to insurance. Good thing is that all the players are fully insured.

Defending champions Macchindra FC and runners-up Tribhuvan Army FC are up against formidable and giants of Nepal football in the likes of Three Star Club. Manang Marshyangdi Club and Mahendra Police Club who are looked upon as strong frontrunners for the title.

The other teams in the fray are capable of springing surprises. Given their latest performance in domestic tournaments, teams like Sankata FC, Jawalakhel Youth Club, Himalayan Sherpa Club, Armed Police Force FC and New Road Team have shown marked improvement in their performance and can upset the apple cart.

In my estimation the league is wide open. I expect it to be competitive and intriguing all the way to the end. The team with a balanced roster, effective Head Coach and versatile players that is well prepared, organized and consistently performs, coupled with a strong bench strength stands a greater chance of success.

As far as standard of play is concerned, a razor thin line separates the teams. More or less, they play a similar brand of football, tactically and technically. The teams are equal physically in terms of athletic and physical attributes.

The presence of international players in domestic football has risen over the years, which is certainly important and exciting.

Most of the A Division Clubs have recruited a crop of foreign players to bolster their chances in the league. One thing that is glaringly obvious to me is they are lacking in quality. It's a well-known- fact that the role of football clubs in the development of players and football is immensely crucial and vital. Unfortunately, in the context of Nepal football, clubs' contribution is insignificant to date.
In fact, their activities are limited to football fields. This has to change immediately. They must involve themselves in a much bigger, responsible, constructive and meaningful way. As things stand, the majority of clubs are financially hard hit, lacking coaches and players development programs, without prerequisite infrastructure such as playing field and training facilities, academies and so forth.

If clubs are dead serious about changing the face of Nepal football, it is time they take a proactive approach and find a way around to make meaningful contributions and their presence relevant.

Let us not forget that the objective of the league is to generate domestic talent. The goal can be achieved unless there is a joint collaboration between ANFA and the clubs.

We cannot have a league just for namesake purpose. It would be tantamount to not having a league. Nepal football needs a strong and reliable league in the true sense to develop, promote football and produce talented home-grown players.

By Sushil Thapa, Fairfax,VA, USA