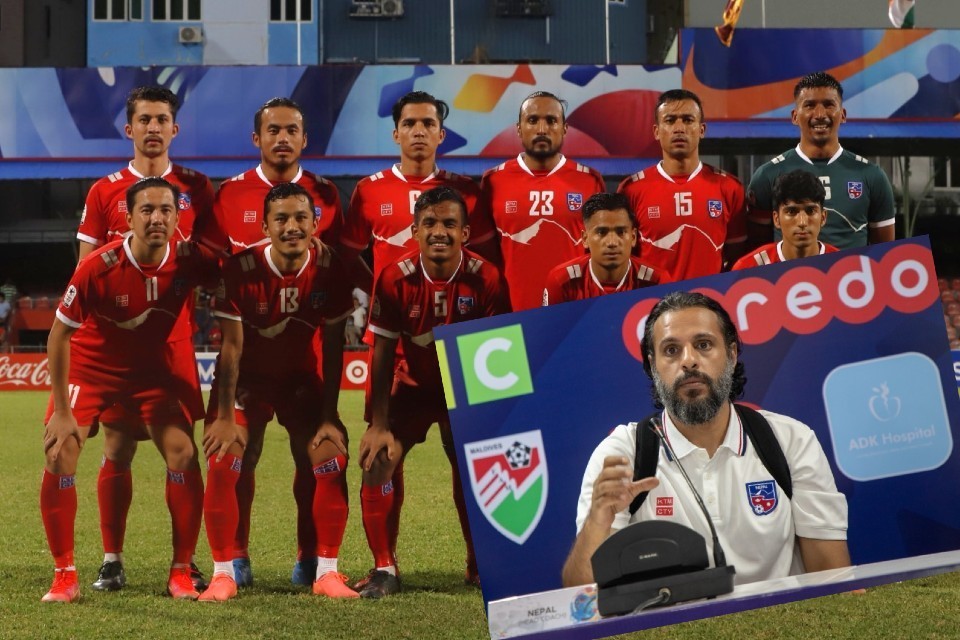 Defensive-minded Nepal hit a bump in the road as they went down by a solitary goal to India in the ongoing 13th South Asian Football Federation Championship Sunday in Male, Maldives.
Prior to the crucial showdown, Nepal, with two back-to back wins, appeared to be cruising. All of a sudden, the setback has put them in a spot of bother, but all is not lost.
In my observation, by and large, Nepal's performance against India was flat, drab and dull. The strategic blunder on the part of Head Coach Abdullah Mutairi played a major part in the team's defeat.
Instead of opting for an attacking strategy, he chose to play an all-out defensive game with the sole objective to play it safe.
That allowed the Indians to dictate the pace of the game and dominate the proceedings for the most part. They had the lion's share of ball possession, shots on goal and clear chances.
Despite pressure, Nepali defense did incredibly well to keep the opposition at bay before conceding the goal in the final minutes of play. For the most part, the offense failed to make any impact and remained passive. They sprung to life only after they trailed by a goal, but it was too late.
At his pre-match conference when Coach Abdullah sarcastically said India had 95 percent chance of winning against Nepal, it caught my ear. I was taken aback. I did not expect him to say that. It was an amateurish mistake on his part. In the battle of psychological warfare, you want the opposition to fear you. Not let your team worry about the opposition. He exactly did the opposite much to everyone's chagrin.
When players needed extra motivation, inspiration ahead of the vital match, he clearly demotivated them and dented morale. Has he forgotten that managing players' psychology is very important and his responsibility? He must remain focused on his goals and should not be a distraction.
Now Team Nepal find themselves under tremendous pressure to get the job done. They clash against a physically stronger Bangladesh for a place in the final. The outcome of the match will determine their progress in the championship. As things stand, it is very clear that one result that can/could cost them dearly is defeat.
A draw result does secure Nepal a spot in the final, but it would be a huge mistake if they set themselves up ultra-defensively throughout the match. On the other hand, Bangladesh needs an outright victory over Nepal in order to play the championship match.
With that in mind, I anticipate Bangladesh to go on the offense from the word go. They have no option but to play an all-out attacking football for the win. They have depth and offensive firepower to pose a threat to Nepali defense.
Team Nepal must fully prepare themselves mentally, physically and tactically for the decisive showdown. Performing well under pressure will be key to their success. They have to shrug off the disappointment of losing to India and bounce back to winning ways.
Most importantly, they must reinvent themselves, find their mojo back, build rhythm and tempo through possession and regain confidence. At the end of the day what counts most is, successfully putting together the pieces and effectively executing the game plan.
To add, it requires a winning mentality, a solid collective effort, individual brilliance, unwavering commitment, coupled with aggression, consistency and ability to finish off scoring opportunities.
Everyone agrees that the contest is evenly poised and can go either way. The side with the right frame of mind, better strategies, consistency and clinical finish stands a better chance to prevail.

By Sushil Thapa, Fairfax VA, USA