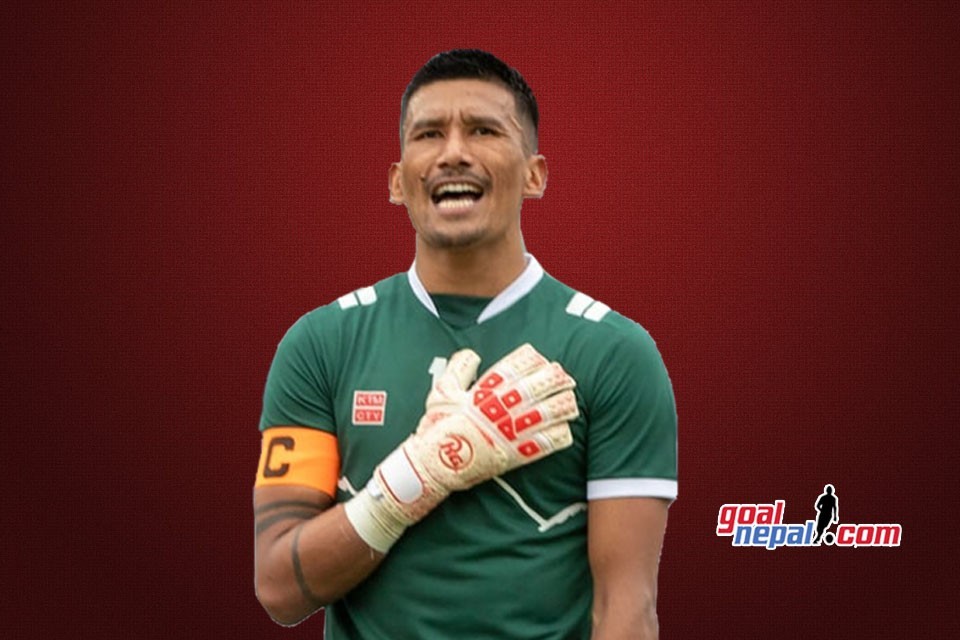 Mr. Kiran Chemjong, or Kiran Kumar Limbu,is one of the few players who has carved out a niche for himself in the national football team of Nepal.

The 31 -year- old originally from Rajarani, Dhankuta, has worked his way to being the number one goalkeeper in the country.

His outstanding goalkeeping ability,techniques and approach has earned him glowing praise and recognition from all quarters. His career is studded with several milestones.With 74 matches in his kitty to date, he is now the most capped player on the national team.

The added responsibility of captaincy is a feather in his cap. Also he is the first Nepali footballer to be nominated and win the AFC Player of the Week beating out nine nominees. Football experts and sports journalists across South Asia have recognized Chemjong as one of the finest goalkeepers in the region.

The All Nepal Football Association(ANFA) Academy product has transformed himself into an elite shot-stopper over the years.

Interestingly, as an upcoming player, he started out as a striker and sometimes defender, while playing for his village outfit Rajarani in district level competitions. Later he made the switch to a goalkeeper after taking advice from senior players and has remained the same ever since.

At ANFA Academy he developed into a very promising prospect.Upon completing his time at the academy,he was ready and raring to go. Chemjong's size-stands at 6 ft 2 in, coupled with a safe pair of hands, quick reflex, sound judgement, aerial strength, athleticism and solid distribution is any coach's dream player.
He has matured as a player and, more importantly, developed a good sense of football and consistency.

With a calm, collected, composed and confident demeanor, he cuts a conspicuous and imposing figure between the goalposts. Friends and acquaintances describe him as a witty, straightforward, soft spoken, friendly, accommodating and easy to get along person. Talent hunters were quick to spot, identify and tap his goaltending potential and skills from his academy days.

In their eyes, he possessed talent, passion, hunger, dedication, commitment and physical attributes to make it big time in football. They saw in him a star in the making. They were absolutely right in their assessment and evaluation of Chemjong's footballing virtues.

Unsurprisingly, in no time, the youngster kick-started his career after signing a contract with A Division outfit Machhindra Football Club in 2008.

He lived up to expectations, and in a short span of time,he made a name for himself, drawing national selectors' attention.

The selectors were unanimous in their decision to include him in the national squad for the 2008 AFC Challenge Cup Qualifiers held in Phnom Penh, Cambodia. Young Chemjong made his senior team debut under extremely challenging and difficult circumstances.

Despite carrying a broken jaw, in a display of grit and stubbornness,he took the field.It was very obvious that he did not want the opportunity to go begging. He justified the selection with a superb performance.His decision to play paid rich dividends as it turned out to be a career turning point for him. From there on, there was no looking back for Chemjong who cruised along in top gear and went on to cement his place in the team.

Chemjong has since asserted himself as the number one goalkeeper in the country. After a year's stint with the Machhindra Football club,his stock rose and went on to become one of the most sought-after players in the domestic circuit.

His career received a big boost when Three Star Club, one of the country's top clubs roped him in for the 2009 season. Playing for Three Star Club from 2009 to 2016, he made the most of the opportunity, and he developed into a reliable, consistent and confident performer. During this time, he represented the Patan outfit and the national team in every major national and international tournament respectively.
I vividly remember his sterling performance against India in the 2012 Nehru Cup in New Delhi,India.He was at his very best, which earned him praises and high marks from the local media and opposition coaches as well.

He transferred to Manang Marshyangdi Club for the 2016/17 season before his career took a very rewarding turn. That same year, he got what was arguably his biggest career break.The opportunity to play for a club beyond the borders.As we are all aware, he passed the test with flying colors.

Let me go into details. Chemjong was signed by Maldives Premier League side TC Sports Club for the 2017/18 season. He put in a standout performance throughout the competition and was declared best goalkeeper of the Premier League.More jubilation followed as his team became Dhivehi Premier League champions.

Chemjong's career took yet another significant turn, following his contract with India's I-League outfit Minerva Punjab Football Club in 2018. He repeated the feat, helping the club win the title. More importantly, for the second time in the season he was named I-League goalkeeper of the year.

Furthermore, early this year he captained Dhangadhi Football Club in the First Nepal Super League held in Kathmandu. He led them to a second place finish and was adjudged player of the tournament.

His performances in Maldives,India and Nepal are evidence of his ability to deliver the goods when it matters the most. His success story is a result of hard work, burning desire, dedication, perseverance, positivity, focus, discipline, never give up attitude and ability to overcome obstacles.

We are sure to hear more about Chemjong going forward. He serves as a catalyst for future generations of footballers in the country.

By Sushil Thapa. Fairfax, VA, USA