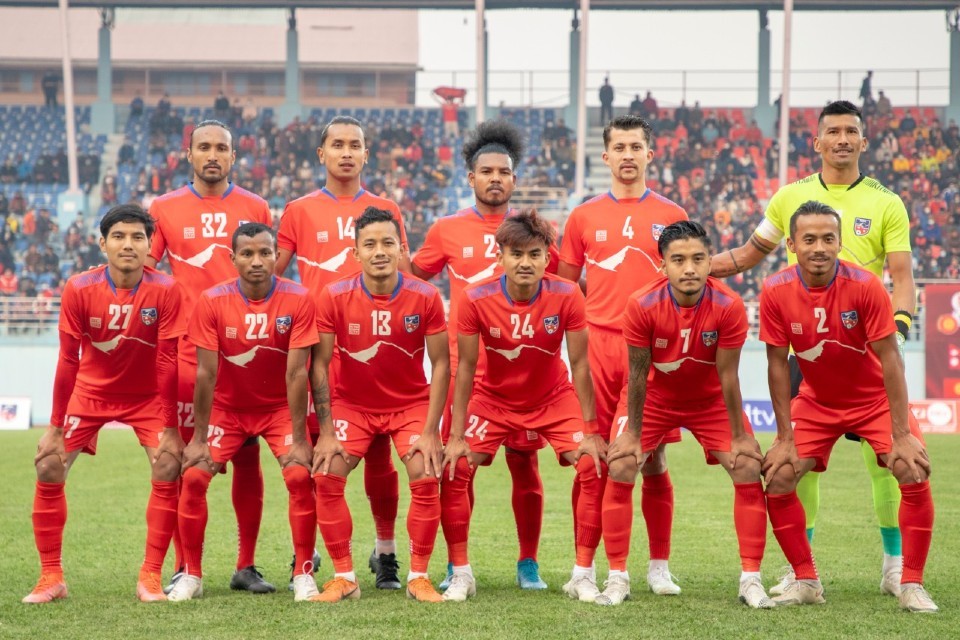 By Sushil Thapa, Fairfax, VA, USA

After a long wait of more than six years, the national team of Nepal made a triumphant return to Dasharath Stadium by lifting the " Three Nations Cup " football tournament in Kathmandu recently.

A vastly improved and recharged Nepal got the better of Bangladesh 2-1 to win the tourney organized by the All Nepal Football Association(ANFA). The third outfit in the competition was Kyrgyzstan's Olympic squad.

No doubt, it was a well deserved victory for the home side led by experienced custodian Kiran Chemjong who plays for Punjab FC in the I-League in India.

Everyone can agree that in the final they were the better side and had a clear edge over Bangladesh performance wise.
After listless performances in the opening two matches,Head Coach Bal Gopal Maharjan was left to work on his team's shortcomings and vulnerabilities,which included lack of offensive penetration, scoring inability and good finish.

They needed to get their act together in the final, which they did. They played aggressively and cohesively throughout the game to chalk up the much needed victory. To be fair, the three teams were on equal footing in terms of playing standards, technical aspect and tactical strategies.Yes,Nepal was at a slight disadvantage physically,however, they showed good strength and physical attributes to stand toe to toe with the opponents.

Nepal and Bangladesh were pre-tournament favorites but Kyrgyzstan (Under-23) had the potential to upset the applecart. In other words, the race for the title was wide open. Success largely hinged on effective team work, consistency and making the most of goal scoring opportunities.

The important victory put an end to Nepal's misery, frustration and championship drought on home ground. Despite missing a few key players, they were able to pull off a win at the end of the day.

Coach Maharjan's team roster for the tournament did not include a significant number of prominent names. In his press meet he made it abundantly clear that he picked the best available players.
His selection of debutants Sanjog Rai, Tridev Gurung and Nishan Khadka paid off. Upcoming midfielder Sanjog Rai,in particular, came out with flying colors.

In the final he performed superbly, scoring a goal and assisting for the second goal that came off the boot of Bishal Rai. His sterling performance earned him man of the match award.

Most valuable player of the tournament,international Rohit Chand, once again proved himself a strong asset to his team.
In the role of attacking defense , he was outstanding.let me remind you that he plays for Persija Jakarta in the Liga 1, Indonesia's premier tournament, Nepal's success comes as a great relief,no matter what. More importantly, it does build
confidence and creates some sort of momentum going forward.Having said that,there is plenty of room for improvement and a lot of work remains to be done.

Problems for Team Nepal are all too familiar. It still lies in the increasingly shaky offensive line that has failed to play penetrative football and score goals, coupled with underperforming midfielders that have lacked creativity and quality.
Besides ,there is a need to work on players' physical fitness, mindset, techniques, game intelligence and discipline.

The deadly earthquake of 2015 wreaked havoc on Dasharath stadium, leaving it unusable and took a little over six years to complete the renovation work.

Braving COVID-19 and pollution, starved football fans packed the freshly renovated stadium in support of their team.As expected,they brought the stadium to life, providing players the much needed energy and push. Fans hoped for nothing less than victory,and they got it much to their delight.

The change of venue for Nepal's World Cup Qualifiers 2022 home matches against Australia, Jordan and Chinese Taipei is a huge disappointment for both the team and supporters. Kuwait is the new venue.

It may be recalled that in away matches , Nepal lost to Australia , Kuwait and Jordan, and defeated Chinese Taipei. With four defeats and one win, it stands third in the group. Now that the home advantage is lost, Nepal has to be at their very best against the opposition to maintain or better their current standings in the group.

The national team of Nepal's struggle in international football has been epic over the years. And it continues to this day. It is no exaggeration to say that the team has been reduced to mediocrity.
Prior to the Three Nations Cup, Nepal failed to win a single competition at home following their gold winning performance at the 1984 South Asian Federation Games held in Kathmandu. The standards in Nepali football have sharply declined for years. Many decades of mismanagement, maladministration and corruption on part of ANFA have left Nepal football in tatters. A lack of proper player development structure and coaching structure has seized up the
production line of quality players.
The landscape of Nepal football has changed very little even after the takeover of ANFA by Karma Tsering Sherpa from discredited Ganesh Thapa.

In the eyes of his supporters, Mr.Sherpa is doing his utmost best to guide Nepal football in the right direction, but the truth of the matter is that his administration has done little or nothing to address the sad state of football.

Mr.Sherpa has not demonstrated leadership and management qualities.Furthermore,it seems he has no clear vision or direction.

There are widespread concerns about transparency,accountability and governance in his administration.

His onetime allies in the likes of Nabin Pandey,ANFA Senior Vice - President Pankaj Bikram Nembang and many more have turned against him .

Sadly, ANFA continues to be the hotbed of petty politics,intrigues, corruption and factionalism.As long as this situation prevails, there will be no end to problems revolving around Nepal football.