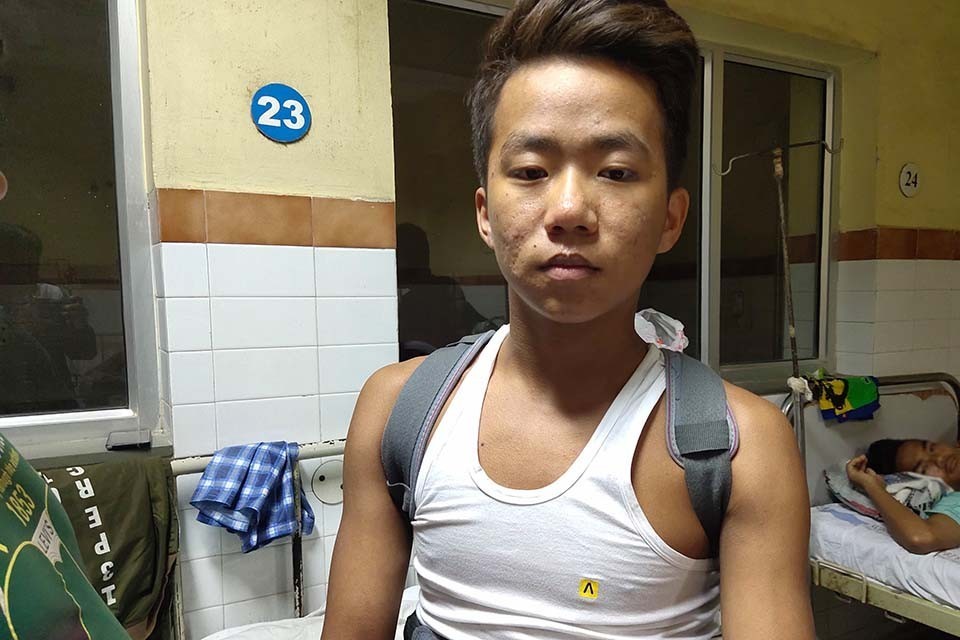 GoalNepal supporters have raised Nrs 42,705 from day 4 for young football player, Prajwal Rai.
Rai has his vertebra fractured while playing a football tournament in Sunsari district. 

He was playing for Fair FC Dharan when he sustained severe injury on Kartik 7, 2076. 
He is hospitalized at BPKIHS, Dharan and is awaiting surgery to realign the bones.
His family - whose financial background is not sound - has already spent more than Nrs 2 lakh for the treatment. 
He is expecting support from GoalNepal supporters.

GoalNepal is running a fund raising campaign to support Rai and his parents for medical bills.

The bill is expected to be Nrs 5-6 lakh (More than USD 5000). We will end the campaign soon we raise Nrs 6 lakh.
Here is the list from Day 1:

GoalNepal 10,000

Rohit Chand (Nepal international) 10000
Ananta Thapa (NPC Coach) 5000

Er. Sovit Shrestha 5000

Hom Nath Giri (NRNA Kuwait VP) 7000


Bartaman Rai (A Division League player) 5000 

Planet Futsal Biratchowk 5000 

Sagar Ghimire (Dharan FC Coach) 3000

Nabin Chhetri 1000

Samir Rai (A Division league player) 3000

Total: 53,100/-

Here is the list from Day 2:

Sarita Gurung (USA) 33,500
Sagarmatha FC 10,000
HamroKhelkud.com 10,000
Bikram Lama 2500
B******** 5000 (anonymous)
Sushant Giri 3000
Milan Rai 1050
Soyahang Chemjong 1550
Astosh Rai 1500
Anup Limbu 2500
Narsingh Rai 3000
Dinesh Rai 1050
Sandip Tamang 1000
Sunil Rai 1000
Rozan Rai 2000
Suman Bhattarai 1550
Miasayal Yonjan 1050
Bhimu Gurung 5000
Cultural Green Club 5000

Total : 91,250

Here is the list from Day 3:

Raju Rai 3000
Suen Labung 10000 



Total: 13000

Here is the list from Day 4:

The Brigade Club, Sydney Australia 20,200
Manil Gurung, Hong Kong 10000
Nepal Police school 1500
Sagar Karki 1005
Bhuwan Basnet 2500
Purna Chemjong 2500
TWYC FC 5000

Total: 42,705

Total collection: Nrs 2,000,55

If you are interested to support Rai, please contact GoalNepal at

goalnepalfund@gmail.com

goalnepalnews@gmail.com

or GoalNepal colleagues Mr. Janam Baral at 9816348711 & Mr. Sulav Kattel at 9819378418

For the record, we will publish all details about the donation we will receive for him.