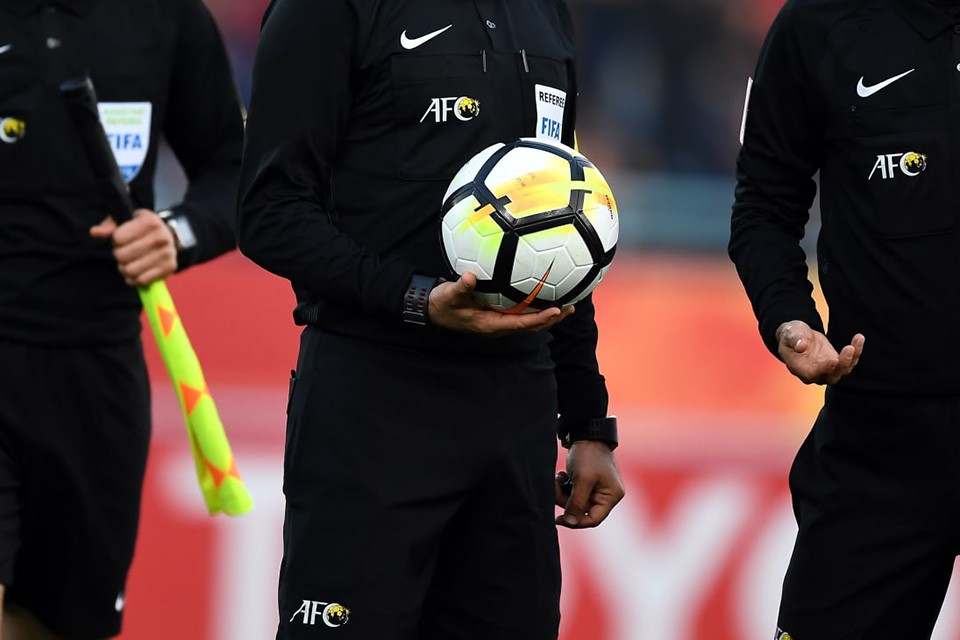 The world-class stature of AFC referees was further underlined on Thursday after a record 16 match officials from the Continent were selected to officiate at the FIFA World Cup Russia 2018.
The recognition from FIFA will see Asia surpass its biggest-ever contingent of 14 match officials at the FIFA World Cup in Brazil four years ago, which featured four trio teams and one support duo team who were deployed as fourth and fifth officials.
AFC President Shaikh Salman bin Ebrahim Al Khalifa said: "On behalf of the Asian football family, I would like to congratulate our match officials on their appointments at the FIFA World Cup Russia 2018.
"The AFC Vision and Mission underlines our ambitions to be the world's leading Confederation and to ensure the success of our players, teams and officials. This recognition from FIFA reinforces once again the undeniable progress of Asian refereeing and the Continent's position as leaders in the global game.
"I wish our match officials the very best in Russia and I am confident that this achievement will serve as an inspiration, not only for tomorrow's generation of match officials, but for all our teams and players to do Asia proud at the FIFA World Cup."
Returning to the pinnacle of world football, five-time AFC Referee of the Year Ravshan Irmatov from Uzbekistan will become the third AFC referee to officiate in three consecutive FIFA World Cups, after Jamal Al Sharif (SYR) and Ali Bujsaim (UAE).
Irmatov will be joined in Russia by Nawaf Abdulla Shukralla from Bahrain and Islamic Republic of Iran's Alireza Faghani as the only Asian referees in Russia to feature in more than one FIFA World Cup.
Meanwhile among the assistant referees, Japan's Toru Sagara will be featuring for the third time while Abduxamidullo Rasulov from Uzbekistan and Bahraini Abdulla Tulefat Yaser Khalil will be making their second appearance at a FIFA World Cup in Russia 2018.
Among the stellar cast of referees poised to make their first-ever appearance are Fahad Al Mirdasi from Saudi Arabia, Mohamed Mohammed Abdulla from the United Arab Emirates and Japan's Ryuji Sato.
They will be assisted by Saudi Arabian pair Abdulah Alshalwai, Mohammed Al Abakry, the Iranian duo of Reza Sokhandan and Mohammadreza Mansouri, Uzbekistan's Jakhongir Saidov, Mohamed Alhammadi from the UAE and Qatar's Taleb Salem Al-Marri.
The AFC's match officials contingent could be expanded further when the selection for Video Assistant Referees is confirmed by FIFA who also announced that the selected match officials will operate in a variety of roles, e.g. referees, assistant referees, fourth officials, reserve assistant referees and video match officials.
The confirmed list of AFC match officials are as follows (in alphabetical order):
Referees:

Al Mirdasi Fahad (KSA)

Faghani Alireza (IRN)

Irmatov Ravshan (UZB)

Mohamed Mohammed Abdulla (UAE)

Sato Ryuji (JPN)

Shukralla Nawaf Abdulla (BHR)

Assistant Referees:

Abdulla Tulefat Yaser Khalil (BHR)

Al Abakry Mohammed (KSA)

Al-Marri Taleb (QAT)

Alhammadi Mohamed (UAE)

Alshalwai Abdulah (KSA)

Mansouri Mohammadreza (IRN)

Rasulov Abduxamidullo (UZB)

Sagara Toru (JPN)

Saidov Jakhongir (UZB)

Sokhandan Reza (IRN)
(From AFC)