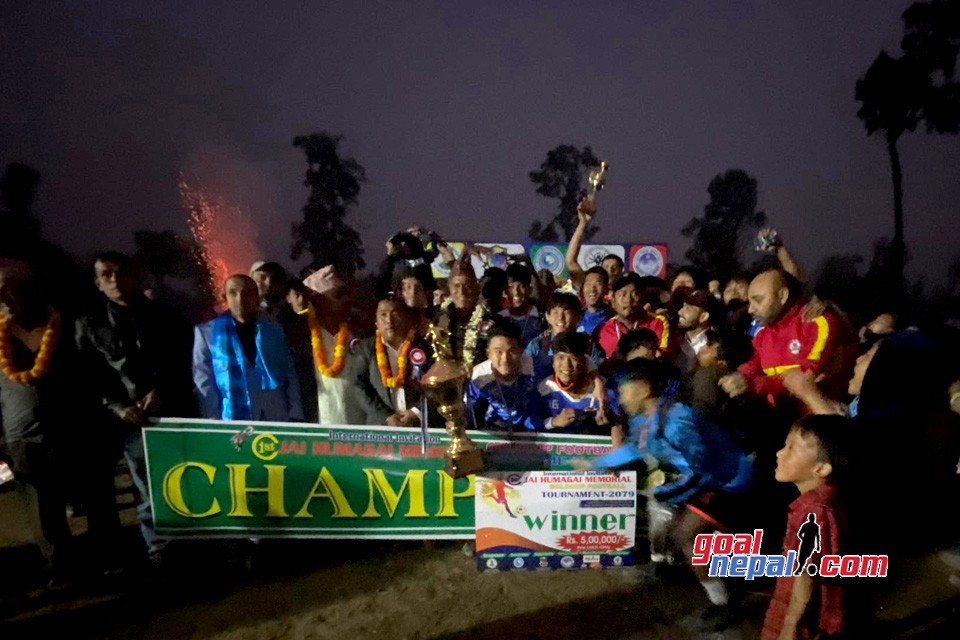 Jhapa (GoalNepal) - BYSC, Minnesota, USA have won the title of the International Invitational First Jai Humagai Memorial Gold Cup Football Tournament. BYSC defeated Salahesh Youth Club 1-0 to win the title.
Miguel Plataphoks scored the only goal of the match in the 36th minute. Miguel was also named the player of the match in the final and received Rs. 5,000 in cash.
BYSC received five lakh rupees as the winners while Salahesh had to settle for three lakhs.
Similarly, Pujan Thapa Magar of BYSC was declared the best goalkeeper in the individual category. Peter Segun of Salahesh was chosen as the best defender. Ashalal Chaudhary of Salahesh was declared the best midfielder. Thom of BYSC became the best forward. Pradeep Humagai of BYSC was selected as the best coach.
Dawa Tamang of BYSC was announced as the emerging player. All those who excelled in the individual category received Ra. 7,000 each and a trophy. René Santillon of BYSC won the top scorer award. For that, he received Rs. 10,000 cash and a trophy.
Hector Ortega of BYSC was declared the best player of the tournament. For that, he received Rs. 25,000 cash and a trophy. The winning players were awarded by the chief guest of the closing program, Member of Parliament of Province No. 1 Hom Bahadur Thapa and others.
The tournament was organized by Late Jai Humagai & Family Trust (USA). A total of eight teams, including teams from India, USA and Cameroon, participated in the tournament.