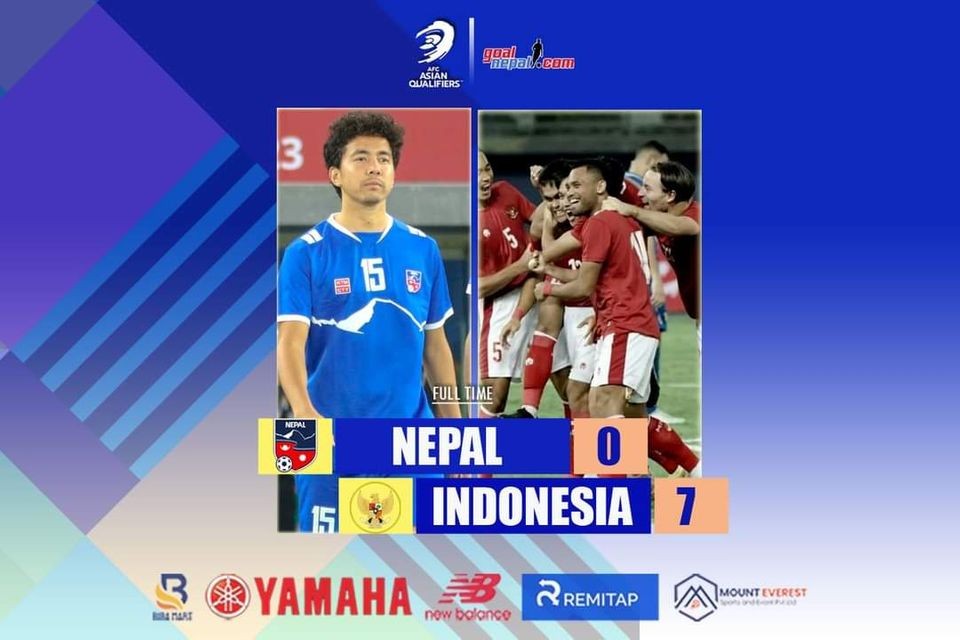 Nepal have suffered a 7-0 defeat against Indonesia in the final group match of the final round of AFC Asian Cup Qualifiers in the match played at the Jaber al-Ahmad International Stadium, Kuwait. Nepal played for almost the final sixty minutes of the match with ten men.
Nepal went a goal down in the sixth minute of the match from a Dimas Drajad header. A cross from the right was beautifully headed into the back of the net by the Indonesian number nine. Aswani Mangkualam got the assist.
Nepal went a man down in the 33rd minute of the match after Suman Aryal got the second yellow card of the match.
After going a man down, Nepal were left ball watching and conceded another in the 43rd minute. Witan Sulaeman finished the move after being unmarked inside the box on a Aswani Mangkualam cutback.
Goals rained in the second half. Fachrudin Aryanto made it 3-0 in the 54th minute of the match. And just a minute later, Saddil Ramdani added another.
Elton Baggott added the fifth in the 80th minu. And Witan Sulaeman added his second just a minute later. Marselino Ferdinan rounded-off a 7-0 win in the 90th minute.
Indonesia have qualified for the Asian Cup after their win. They needed a win in this match to qualify for the Asian Cup. Nepal were already out of the race to the continental showdown next year and finish on zero points.