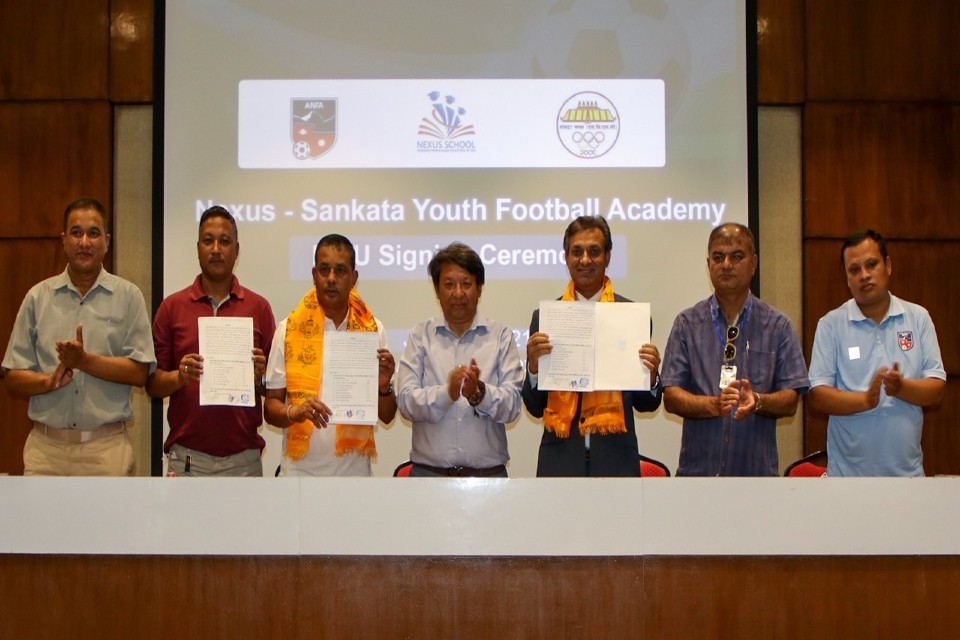 Finally, Nepalese clubs have undertood the importance of youth football academy.

After three departmental teams decided to run youth football academies, Sankata club has come forward to do the same.

Sankata club will run the academy in association with ANFA and Nexus school.

The MoU between three parties were signed at ANFA complex on Tuesday.
ANFA Vice President and Chairman of Youth Development Committee Upendra Man Singh, Sankata Club's acting president Surendra Shikhrakar, Nexus School Principal RB Katuwal signed the agreement.
As per the agreement, 14 players―seven players from Sankata Club and seven from Nexus School―will join the academy named Nexus-Sankata Youth Football Academy for the first year. The players will train at Sankata Club's ground while Nexus School will provide scholarship to them.
For the second year, Sankata Club will provide 14 players taking the total players to 21.
ANFA President Karma Tsering Sherpa, Vice President Shixit Parajuli, General Secretary Indraman Tuladhar, Assistant General Secretary Arun Man Joshi were also present in the signing ceremony.
Japanese Kids Paying Respect To U12 Team From Nepal