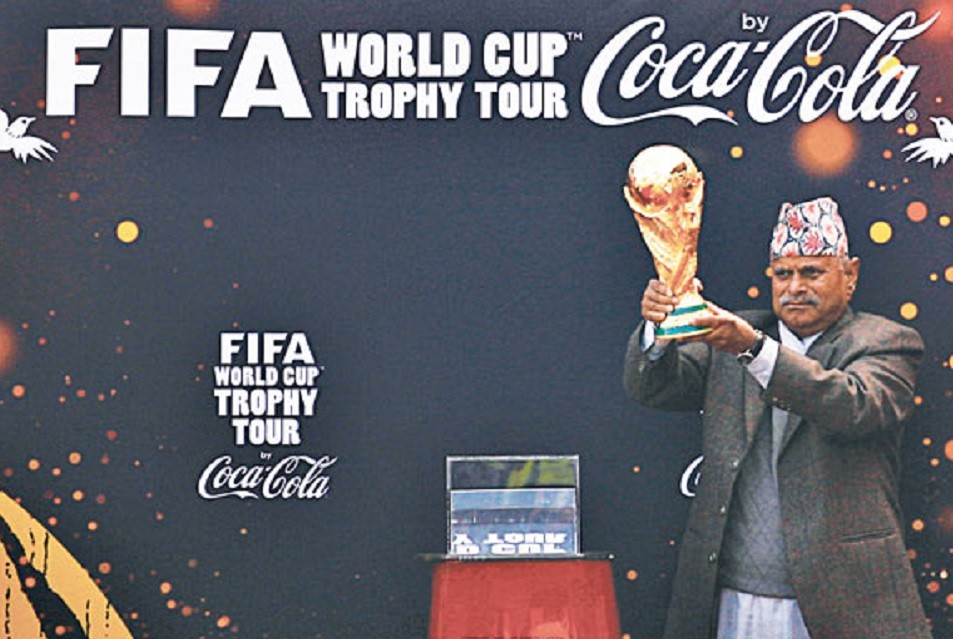 FIFA world cup trophy won't be touring Nepal this edition.
Coca-Cola in Nepal didn't plan the tour. In 2006 FIFA and long-term partner Coca-Cola took an ambitious first step on a remarkable new journey by taking the original FIFA World Cup Trophy and flying it around the world in the build-up to the 2006 FIFA World Cup Germany™.
This first ever FIFA World Cup™ Trophy Tour brought the energy and excitement of the world's most loved football tournament, and it's most coveted prize, directly to fans for the first time.
Since 2006, every new edition of the FIFA World Cup™ has brought with it the promise of a new Trophy Tour travelling and touching down in new cities and meeting new fans.
The FIFA World Cup Trophy™ Tour by Coca-Cola is a rare opportunity for fans to see the Original Trophy up close and have their experience captured with a photograph. It's an exciting and exclusive experience since the Trophy is otherwise only displayed at the FIFA World Football Museum in Zurich, during the FIFA World Cup Final Draw and at the final match of every FIFA World Cup™.
By the end of the FIFA World Cup Trophy™ Tour by Coca-Cola in 2014, the trophy had visited 90 countries over a 267-day period. During this time some 1.3 million fans got up close to the trophy for a photo-op but, of course, no one touched it except for previous FIFA World Cup™ winners and Heads of State!
Then Nepal president Dr. Ram Baran Yadav had lifted the trophy at Dasharath stadium.
Going global
In September 2017, the FIFA World Cup™ Trophy Tour by Coca-Cola kicked off in Moscow, Russia. The tour stayed in Russia until December before going global to cover over 50 countries across six continents. It returns to the host country in May just ahead of the 2018 FIFA World Cup Russia™.

From: FIFA
Pic: Google