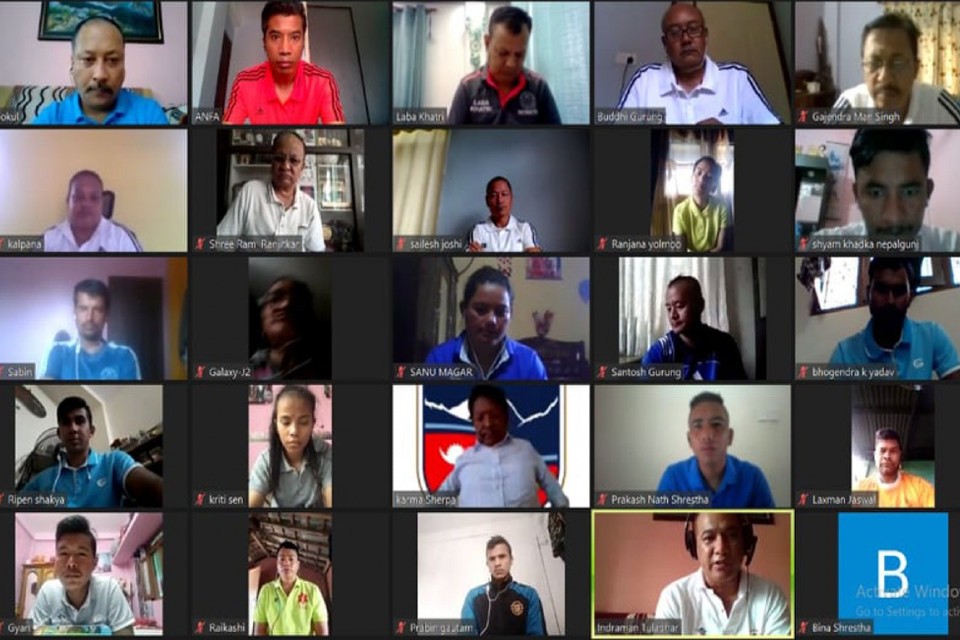 A-three-day ANFA online refereeing course got underway today.

The webinar features 18 referees across the country.

The online course is conducted by former FIFA referees & instructors; Buddhi Bahadur Gurung, Shree Ram Ranjitkar, Gajendra Man Singh, Kalpana Sharma, Laba Khatri and Sailesh Joshi.
Participants are:
Bhogendra Yadav (Dhunusha), Gyan Bahadur Magar (Rupandehi), Gyan Bahadur Tamang (Sindhuli), Kashi Raj Rai (TAC), Kriti Sen (Rupandehi), Laxman Jaswal (Jhapa), Prabin Gautam (TAC), Pratik Ghimire (Nawalparasi), Ranjana Yolmoo (Ilam), Ripen Shakya (Rupandehi), Santosh Gurung (Pokhara), Sanu Maiya Magar (Bara), Saraswoti Lo (Makawanpur), Shyam Bahadur Khadka (Nepalgunj), Tufan Kumar Limbu (Dhankuta), Uma Shrestha (Kathmandu), Umesh Bidari (Dhading).
6th Rumpum Udayapur Gold Cup: Morang Stuns Nepal Police - MATCH HIGHLIGHTS